Raging bull gores three at Spanish 'slaughter' festival (PHOTOS, VIDEO)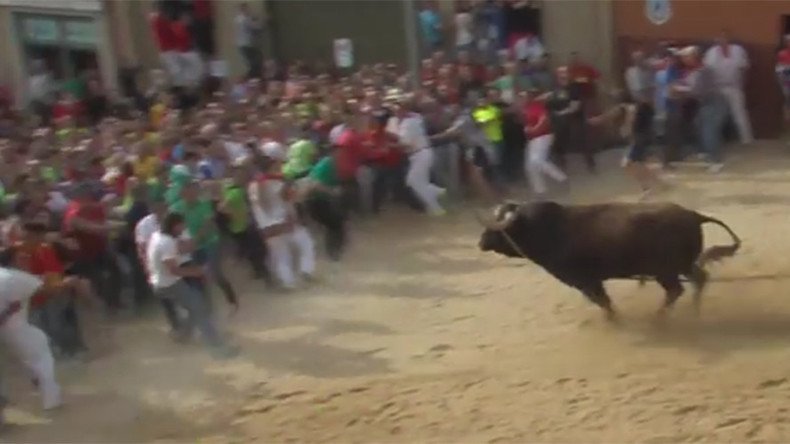 Three people have been gored at a traditional bull run in Spain which animal activists have denounced for inflicting "unimaginable" harm on animals.
The week-long Toro Enmaromado sees people run through the streets of Benavente while dragging bulls by a rope.
On Wednesday, three participants were hospitalized after being charged down by Pitarroso, a 620 kilo bull, reported 20 Minutos.
Local media is reporting that another participant is in serious condition after collapsing during the run.
Spanish political party and animal rights group PACMA has sought to have the event banned because of the severe abuse meted out against the animals.
READ MORE: Teacher 'experiments' by releasing bull into arena full of students (VIDEO)
A statement on the PACMA website provides an eyewitness account to some activities at the festival and describes how bulls are subjected to "unimaginable" suffering before being transferred to a slaughterhouse.
The group say they plan to launch a complaint after claims children and drunk people took part in this year's event.
At one point the large bull spears two men in a doorway, although it is unclear if these people required hospital treatment.
'Toro Enmaromado' dates back to the 17th century celebration of the Feast of Corpus Christi. The program for the event details pursuits like bull running workshops and a summer street party.
But the festival's darker side and involves bulls being "buffeted and beaten" by scores of spectators, according to PACMA.
The animal rights activists have described this year's 'celebration', when one bull calf was pulled through the side streets of Benavente squealing for 40 minutes before being killed.
"Burlera, the victim of this year, was dragged with a rope, was buffeted and beaten, fell to the ground several times, hitting his mouth… Finally, he was led to the slaughter," PACMA said.
Video footage of the bull baiting marathon shows hundreds of participants goading an animal believed to be Pitarroso, as it charges angrily around with a rope tied to its horns.
You can share this story on social media: