Teacher 'experiments' by releasing bull into arena full of students (VIDEO)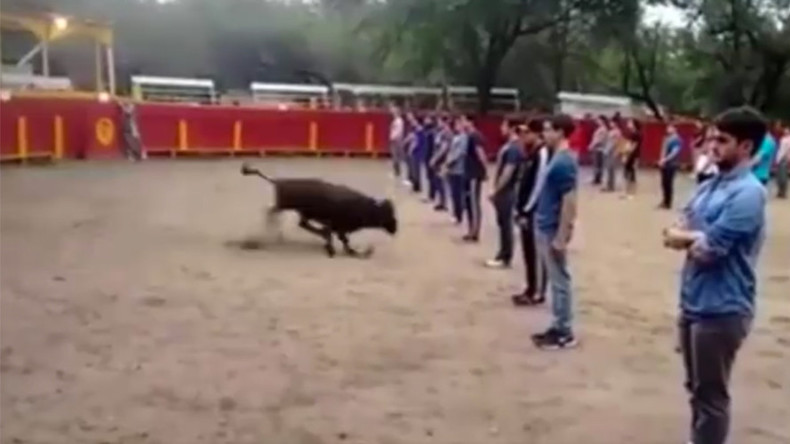 A video of a bull let loose in an enclosed area full of students has gone viral, but not for the reason you might expect - instead of charging, the animal wove its way around the ring without striking anyone.
The potentially dangerous encounter was organized by a teacher to show his students that if a bull is not attacked or provoked, it will not attack.
It's not clear where it was filmed, but the video was uploaded by Spanish blogger Salvador Raya and has been viewed over 14 million times.
READ MORE: Out flanked: Angry bull gores matador in butt during Spanish fight (VIDEO)
It shows a group of around 40 students arranged in three rows and standing still as the young bull races through the pen trying to find an escape route.
Although it appears to brush against a student at one point, the animal continues to rush around the ring without attacking anyone.
The footage demonstrates that bulls charge at movement, and not color.
The experiment garnered mixed reaction on social media. One point argued by Facebook commenters is that the bovine is a heifer (a female) and not a bull.
Bullfighting is considered by some as an integral part of Spanish culture, but some restrictions have emerged since the new leftist Podemos party won its first seats in local and regional elections a year ago.
At least 17 Spanish cities and towns have slashed municipal funding for bullfights and bull runs or passed measures condemning or banning them.