Paralyzed dad dons robot suit to walk daughter down the aisle (VIDEO)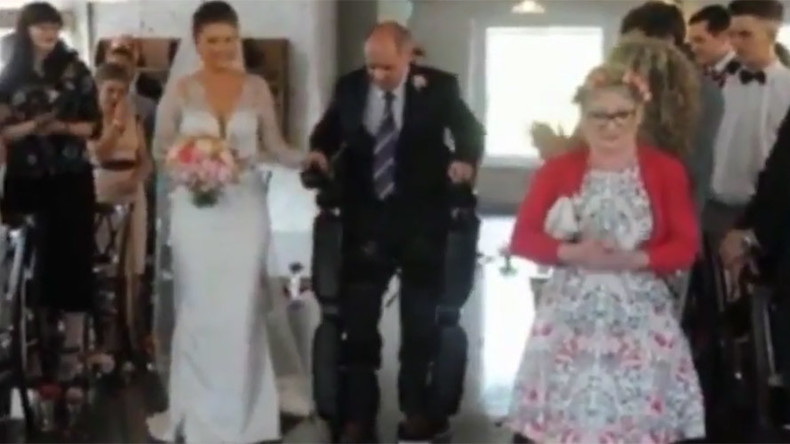 A man paralyzed from the waist down fulfilled his promise to walk his daughter down the aisle on her wedding day thanks to a state-of-the-art £90,000 (US$130,000) robotic mobility device.
Chris Palmer, 55, from Derby in England transformed into a real life bionic man to perform his fatherly duty as his daughter Heather got married last weekend.
Palmer became wheelchair-bound in 2012 as a result of an aggressive form of cancer and was told by doctors he would never walk again, the Derby Telegraph reports.
One of his first concerns was that he would not be able to walk his daughter down the aisle: "When I lay in hospital after the operation, one of the first things I thought about was my daughter's wedding and how I wasn't going to be able to walk her down the aisle," he told the local paper.
READ MORE:The 'bionic' Irish soldier who fought and spied for Russia
Palmer was able to achieve what had once been unthinkable thanks to an exo-skeletal suit called 'Rex' which enables paralysed people to walk and stand without assistance. The suit is self-supporting and users can control its movement through joystick-like controls built into the device.
Manufacturers of the device, Rex Bionics, who are currently working on clinical trials of the device with spinal cord injury sufferers, loaned the suit to Palmer and taught him how to use it for his daughter's big day.
"It's wonderful I can do this – it's fulfilling something that dads do," Palmer said.