Not so awesome: Lego becoming more violent to boost sales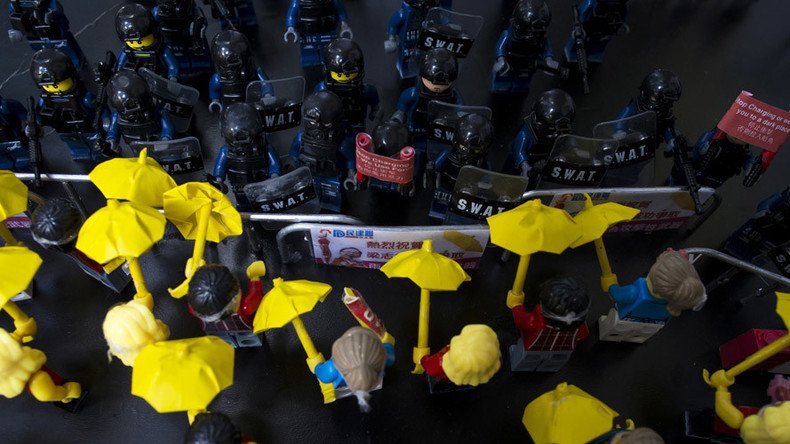 There's a new "arms race" gripping the globe, but this time happening in the world of toys, according to New Zealand researchers.
The beloved and iconic Lego brand has increased the amount of pieces depicting violent weapons in bid to boost sales, according to a study by NZ's University of Canterbury.
The interlocking brick manufacturer has released more than 12,000 sets since 1949, but the first weapons didn't appear until 1978.
Back then, they were tiny axes made for a medieval castle set, but since then "violence in Lego products has increased significantly," found research published in the Public Library of Science journal.
"This increase is not in line with their policy that 'Lego products aim to discourage pretend violence as a primary play incentive'. The violence in Lego products seems to have gone beyond just enriching game play," writes the study's authors.
"To catch the attention of their customers, toy manufacturers are locked in a metaphorical arms race for exciting new products," added the authors. "In this race they do not only compete with other toy manufacturers but also with television and video games, which have become more violent over the years."
To complete the study, researchers used a database for Lego parts known as BrickLink, described as the "largest online marketplace."
Analysis of Lego booklets between 1978 and 2014 revealed that "40% of the catalog images were perceived as containing some kind of violence."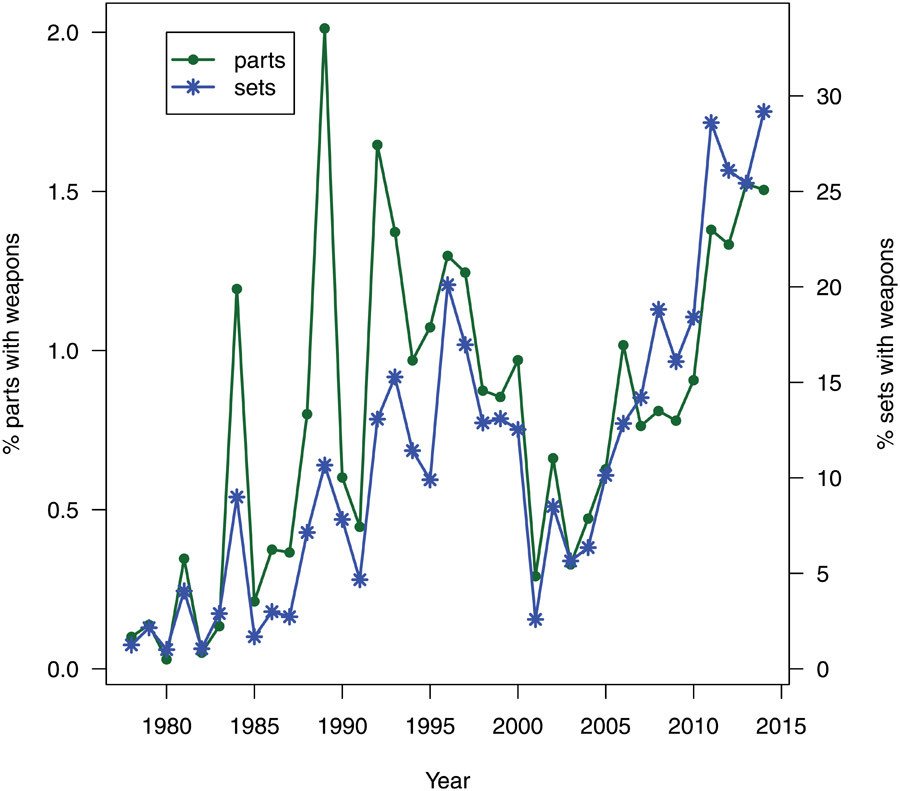 Lego has responded to AFP by saying that their use of comedy "helps to tone down the level of conflict," although the latest study says a "humorous" atmosphere was the least likely experience to be documented by people viewing Lego imagery.
The Danish company went through a turbulent period in the early part of this century with profit margins taking a huge hit in 2000 during what it described as a "very difficult year for the entire toy industry."
Since then, Lego has come back from the brink of financial meltdown.
However, the study suggests the company, like many toymakers, has turned down the dark path of violence to compete with computer games.
Granted, Lego blocks have always been made from oil, a substance that's inspired violence and war around the globe for more than 100 years.
In 2014, the toy manufacturer ended its long-running association with Shell, a company known for violence against the environment and protestors.
READ MORE: LEGO ends 50-year tie-up with Shell after anti-Arctic oil campaign by Greenpeace
A Greenpeace video showing Shell drilling destroying the Arctic helped prompt the change of heart, the two-minute clip stating that "Shell is polluting our kids' imaginations."
You can share this story on social media: