Farminator: Robot ranchers replacing humans in agriculture (VIDEOS)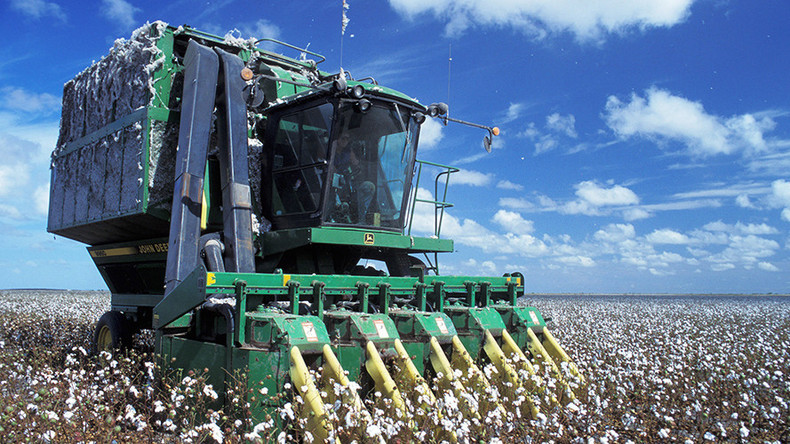 As technology advances, the future of farming is about to change drastically with the rise of robots being used in agricultural work as alternatives to manpower.
"Farmbots" are now being used as shepherds in the Australian outback where farmers struggle to monitor livestock frequently enough due to the remote locations of herds, according to the New Scientist.
One example is cattle station "Suplejack Downs," which is located in the Northern Territory and takes some 13 hours to reach by car from the nearest town, Alice Springs. The farm is spread across 4,000 sq km, which can prove difficult to manage.
This is where the farmbots come in. The robots will be used in a two-year trial to herd livestock, monitor their health and check their grazing habits to ensure animals remain healthy. They will also be equipped with thermal and vision sensors to detect changes in an animal's body temperature and walking gait.
The robots will be used in several farms in central New South Wales as part of a program by robotics researcher Prof. Salah Sukkarieh from the University of Sydney.
"We want to improve the quality of the animal health and make it easier for farmers to maintain large landscapes where animals roam free," he told New Scientist.
Sukkarieh did admit that robot technology is stirring up fears about reducing work opportunities for people, but said farming labor jobs are becoming increasingly difficult to fill.
"It's farmers who are driving this because labor is in short supply and they are looking for technological assistance," he added.
Though robot technology help farmers to cut costs while maintaining production, they also pose a huge risk to manpower used in the industry.
In February, Japanese company Spread said it would launch the country's first robot-run farm, to fill labor shortages created by an ageing population. The company insisted that robots will not fully replace people.
"Our new farm could become a model for other farms, but our aim is not to replace human farmers, but to develop a system where humans and machines work together," JJ Price, the company's global marketing manager told the Guardian.
In the US, a similar labor shortage has led to further reliance on machines. Agricultural work was generally carried out by low-paid immigrants, but these numbers have dropped, reportedly because of stricter border enforcement and is expected to worsen over the years.
In 2013, the US Department of Agriculture invested $4.5 million in funding research for automated farming work due to increasing demand for produce.
With robots, smart technology and drones being increasingly incorporated into the agricultural industry, high labor costs have been blamed for the agri sector's growing reliance on technology, a report from analysis firm Stratfor stated.
You can share this story on social media: