'Overweight' lawmaker proposes maximum age & size for strippers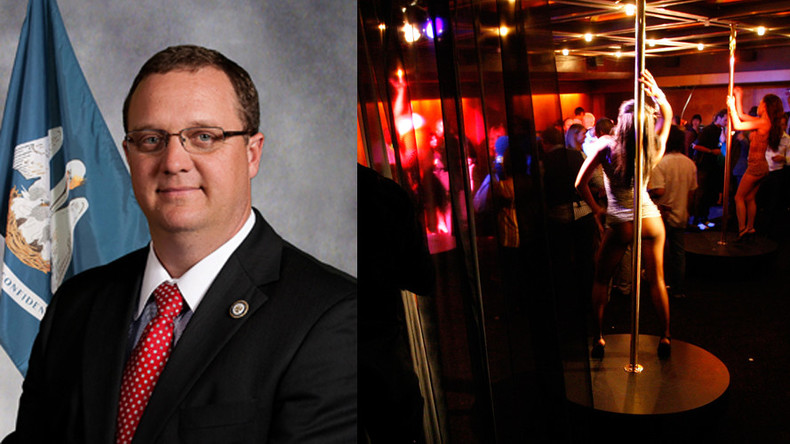 Louisiana lawmaker Kenny Havard confused satire with sexism on Wednesday when he attempted to amend a bill in the legislature to include a "maximum" age and weight for strippers.
His attempt to get a cheap laugh came as the House of Representatives met to vote on a bill restricting the minimum age of strippers to 21 in establishments that serve alcohol.
Havard's amendment limited the exotic dancers to "between 21 and 28 years of age and shall be no more that 160lb [73kg] in weight."
His "joke," which is now part of the official legislative record, dropped like a lead balloon and he quickly pulled his amendment after his female colleague, Rep Julie Stokes, said she had "never been more repulsed."
The original bill passed 96-0, including a vote from Havard, but not before the incident sparked reaction about sexism in the statehouse.
"I've been told at least three times since this regular session started, by different people in different places, that women should be barefoot and pregnant," Stokes fumed about Havard.
Rep Nancy Landry also showed frustration with him, telling the New Orleans Advocate, "He was clearly insinuating that women over a certain age and over a certain weight are not attractive."
Kenny Havard could stand to lose a few pounds IMO

— skooks (@skooks) May 19, 2016
Havard has refused to apologize, dismissing claims he was being sexist since he wouldn't be able to strip under his own amendment because he's a "little bit overweight."
He did get some support after a few anonymous donors left dollar bills in the House chamber.
Beyond the sexism accusations, Havard also appears to be out of touch with his constituents' sexual appetites, at least based on PornHub data which shows 'fappers' in the Bayou state are one of the biggest viewers of BBW (big beautiful women) videos.
American porn consumers are also big fans of 'MILF' videos, according to PornHub, which usually feature "mothers" over the age of 28.
You can share this story on social media: