Ryanair runway 'bomb' scare sparked by onboard bathroom fight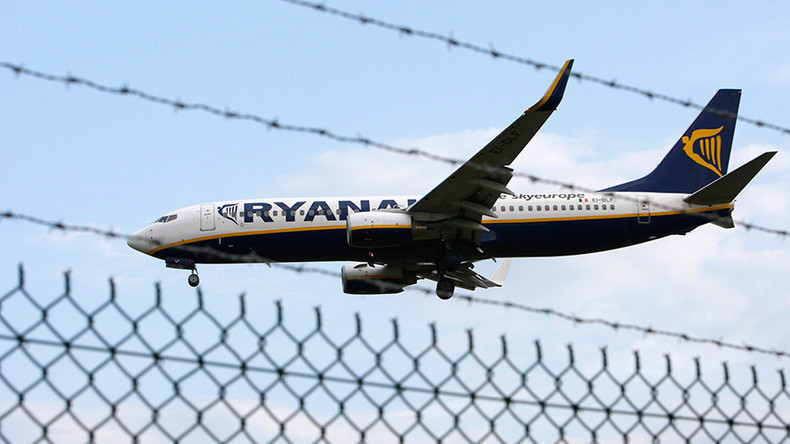 The terror alert which saw a Ryanair flight from Norway to Manchester evacuated has been described as a "misunderstanding" after passengers thought they heard two men mention a bomb during a bathroom row.
The dramatic incident occurred Sunday - the same day a Premier League football fixture between Manchester United and Bournemouth had to be postponed when a suspicious package was found in Old Trafford stadium.
Norwegian police tweeted that the runway security alert was sparked by reports of two passengers acting suspiciously on board a plane at Moss Airport, Rygge. The incident was attended by the bomb squad.
Ryanair Flight FR3225 had been due to fly from the airport outside the Norwegian capital Oslo at around 6.55 p.m. Sunday evening.
However, it has emerged that the "suspicious activity" witnessed on board was actually a heated bathroom argument between two men prior to take-off.
Aftenposten report how worried passengers believed they heard the pair use the word "bomb" and reported the incident to the crew.
Passenger luggage was searched as a result of the security alert, but no explosives were found.
The two men, reportedly a Congolese man and a Sri Lankan national who both hold British passports, were later released by police who confirmed the situation was a "misunderstanding".
Spokesperson for the Ostfold Police District told NRK that officers took the incident seriously following earlier events in the city of Manchester.
"Put together… we considered that we had to take this seriously," he said.
READ MORE: Controlled explosion carried out at Manchester United stadium after evacuation
Meanwhile, UK police have since determined that the football stadium "bomb" was a realistic looking dummy device used in a recent terror training exercise at the ground.
"Whilst this item did not turn out to be a viable explosive, on appearance this device was as real as could be, and the decision to evacuate the stadium was the right thing to do, until we could be sure that people were not at risk," a spokesperson for the Greater Manchester Police said.
You can share this story on social media: