World's oldest person, the last American born in the 1800s, dies at age 116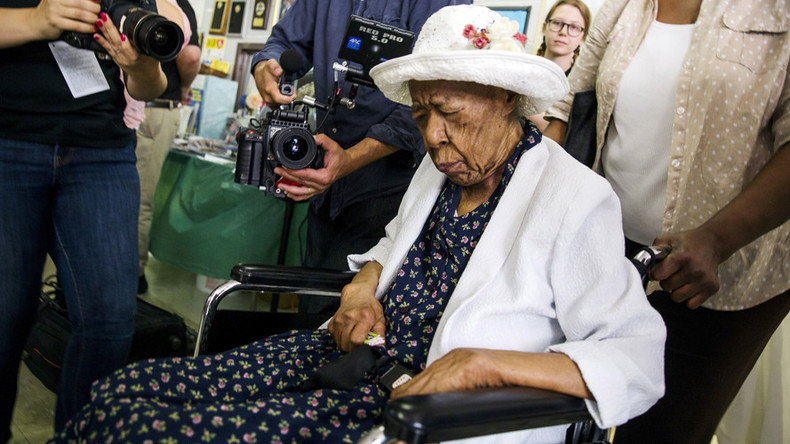 Susannah Mushatt Jones, the granddaughter of slaves who held the title of "world's oldest living person" and "the last American born in the 19th Century", has died at the age of 116.
Born July 6, 1899, she passed away Thursday in a Brooklyn nursing home where she had lived for three decades.
Originally from Montgomery, Alabama, Jones was born the same year the word "automobile" first appeared in text - and lived through two world wars, 20 US presidents, and unimaginable Jim Crow racism.
Jones credited her long life to not drinking, smoking, or partying, a family member told NBC, adding that the fresh fruit and vegetables she ate during her childhood helped maintain her health.
One of 11 siblings, she graduated from school in 1922 before working full-time picking crops with family members on the same land her grandparents farmed as slaves.
Her grandmother lived to be 117 years old, according to US census data.
She was accepted into Tuskegee Institute's teaching program, but as her parents couldn't afford the tuition fees, she left for New Jersey and eventually New York where she found work as a nanny and housekeeper.
Education remained her passion though, and she helped establish The Calhoun Club, a college scholarship fund for African American students.
Married once with no children, Jones worked for a time as housekeeper for Paramount Pictures treasurer Walter Cokell, where she spent winters in the posh Los Angeles neighborhood Bel Air as well as Florida, and met celebrities such as Cary Grant, Clark Gable, and Ronald Reagan.
She returned to Alabama after retiring in 1965, but as more of her family moved north, she returned to New York where she lived until her death.
At age 80, she moved into an elder home in Brooklyn where she continued to cook for herself and partake in the neighborhood watch until she was 100.
She refused cataract surgery leaving her blind and partially deaf.
Her 81-year-old niece told CBS in 2013 that her aunt had never had a mammogram or colonoscopy.
"She's tough, but she knew that somehow if she exposed herself to all those medical procedures it's going to kill her," she said.
Her reign as the world's oldest person commenced last year when 117-year-old Misao Okawa died in Tokyo in April 2015.
116-year-old Emma Morano from Italy, born after Jones on November 28, 1899, is now the world's oldest person and one of the last living links to the 19th century.