Gentle giant attacked: Rare whale shark hunted, strung up in China (PHOTOS)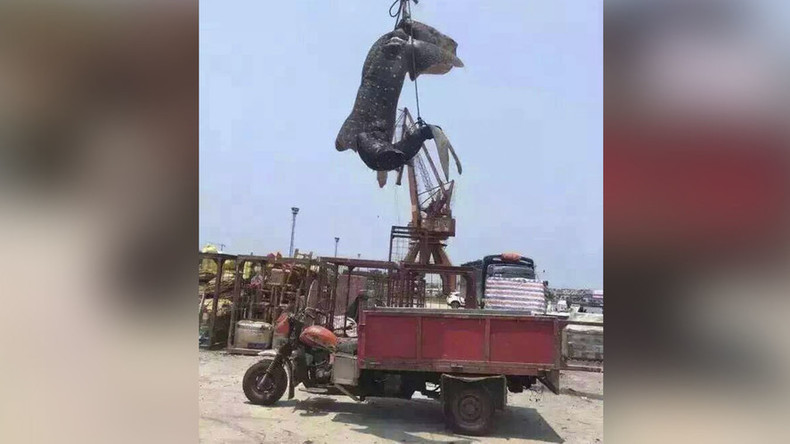 Shocking photos have emerged of an endangered whale shark which was illegally hunted and hung in a southwest Chinese harbor after it was spotted in the sea nearby.
The protected species, known as the gentles giant of the ocean, was seen in the water near an offshore oilfield close to Beihai city, Saturday. Just hours later, the whale shark was hanging in the harbor.
Starkly contrasting before and after photos were posted on Chinese social media site weibo.com by Beihai Post, the official page of Beihai Municipal People's Government Information Office.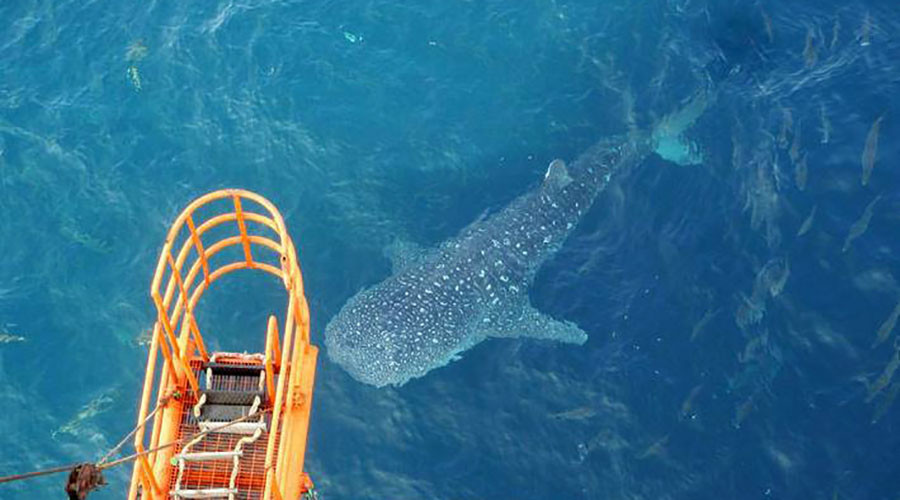 Outrageous: rare whale shark seen at offshore oilfield in SW China's Beihai was killed just hours after it was found pic.twitter.com/1dt5xpS0o0

— People's Daily,China (@PDChina) May 8, 2016
The whale shark is the biggest fish and shark in the world and feeds on small marine life such as plankton and fish eggs. The largest confirmed whale shark measured 12.65 meters (41.5 feet) in length and weight about 21.5 tons (47,000 pounds).
Despite its mammoth size, the whale shark is docile and is not considered a threat to humans. They are migratory creatures, typically inhabiting tropical and warm temperate seas.
Whale sharks are currently listed as a vulnerable species and legally protected under both international and Chinese law. However, hundreds are killed in China every year.
Last August, distressing footage of a live whale shark being sawed to pieces in Guangdong, China, sparked outcry across the country.
READ MORE:World's rarest shark falls victim to fish oil market
Chinese NGO WildLifeRisk uncovered the world's largest slaughtering facility of whale sharks near Wenzhou, in China's southeastern Zhejiang Province and published the results of a four-year investigation in 2014.
They claimed up to 600 whale sharks are being slaughtered there annually to produce shark oil for health supplements or for products such as shark fin soup, leather items and lipsticks. A single carcass is worth about $30,000, National Geographic reports.