Mighty Monsanto: Veteran cartoonist fired for pro-farmer, anti-Big Ag piece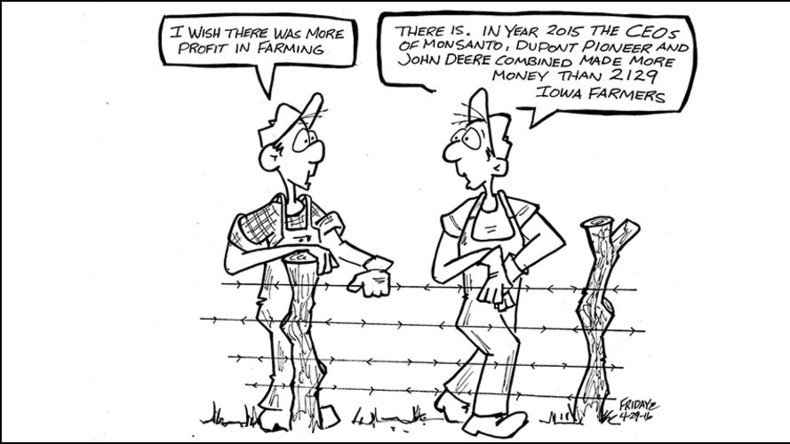 A veteran newspaper cartoonist was fired from a local newspaper in the cornbelt state of Iowa, for a piece criticizing Monsanto and other Big Agriculture companies.
Rick Friday had been working for Farm News for more than 20 years before Big Ag stepped in to suppress freedom of the press.
The cartoon in question was published on April 29 and shows one farmer saying, "I wish there was more profit in farming," while the other one says, "There is. In year 2015 the CEOs of Monsanto, Dupont, Pioneer and John Deere combined made more money than 2129 Iowa farmers."
The next day, Friday was told he was fired.
US Uncut revealed an email from his supervisor which said, "Well, believe it or not, Farm News' 20-plus years relationship with you is over. Today I was instructed by (redacted) that we will no longer take a cartoon from you."
"The last one, Profit, has caused a s***storm here that I do not understand," the supervisor's email continued. "In the eyes of some Big Ag cannot be criticized or poked fun at. The cartoon resulted in one seed dealer canceling his advertising with Farm News."
Friday has taken to social media in an act of defiance, sharing the cartoon and explaining: "I fall hard in the best interest of large corporations. I am no longer the Editorial Cartoonist for Farm News due to the attached cartoon which was published yesterday."
In the Facebook post that has been shared over 3,000 times, Friday said he had given "twenty-one years of service and over 1,090 published cartoons to over 24,000 households per week."
Farm News brown-noses Monsanto, Dow. Long-time Iowa farm cartoonist fired for creating cartoon about Chemical Corps| https://t.co/vdirkGHbQK

— Scarlet Jinn (@scarletjinn) May 4, 2016
"I did my research and only submitted the facts in my cartoon," Friday said.
"I simply Googled the total compensation of 3 random CEOs to use as an example in my cartoon. I used the Agribusiness report for the average farming income in 2015 and divided it by the 3 CEO salaries. Simple facts anyone can find," he explained in the comments.
@SenateAg Does Monsanto pay 'all' your salaries or match it in contributions(bribes-conflicts of interest)? That's a lot of mouths to feed.

— Me Me (@me__sheer) March 1, 2016
The average cash farm income is forecast to be $94,000 in 2016, down half a percent, according to the USDA.
Monsanto CEO Hugh Grant received $11.9 million in 2015 with a salary of $1.6 million and the rest in stock options and compensation incentives, the St Louis Business journal reports.
@vengron@RoyalSegolene Monsanto pays competitive salaries and is a good company to work for despite all the smear campaigns against us.

— Monsanto Europe (@MonsantoEurope) June 18, 2015
John Deere CEO Samuel Allen got $15 million in compensation in 2015, with $1.5 million base salary.
Dupont's Ellen Kullman, who retired at the end of 2015, earned over $12 million for 2015.
"That's okay, hopefully my children and my grandchildren will see that this last cartoon published by Farm News out of Fort Dodge, Iowa, will shine light on how fragile our rights to free speech and free press really are in the country," Friday said.
Friday's post received an outpouring of support on Facebook.
"I only share this information with you because we all need to see the cowardice acts of the press. Instead of informing readers of facts they choose to cater to big business. The cartoon simply states the gap between CEO salaries and the common workers of America. How many families could we feed on a CEO salary of $18 million? That is immorally shameful," Friday said.
I hereby declare John Deere evil. I have several reasons for this, but short version, they are willing to compromise morals for profit.

— humbledaisy (@humbledaisy) May 24, 2015
Friday went on to share a number of cartoons portraying the situation.
Monsanto, however, has denied any role in Friday's firing. The company shared a letter written to the cartoonist on its blog.
"As you may know, we weren't aware of the cartoon until Monday, May 2 and we had no part in your departure from Farm News," the letter read.
"This is not the first time we've been the subject of a joke or political cartoon and it probably won't be the last. It is much easier to laugh at ourselves than it is to stifle humor," Monsanto added in the post.
Farm News is a weekly publication by the Fort Dodge Messenger and owned by Ogden Newspapers, which drew controversy for its editorials in 2010, Rawstory reports.
The newspaper group pushed almost identical editorials slamming ACORN as "a front for liberal politicians" and endorsed Republican presidential candidates John McCain and George W Bush through editorials that were written by the "corporate headquarters", not individual newspaper boards.
Monsanto is well known for its suppression of criticism in the mainstream media, most famously at Fox News affiliate WTVT in Tampa, Florida, which censored coverage of an executive from the Big Ag company lying about genetically-modified bovine growth hormone.
.@GrayHammy WTVT purchase finalized Jan 1997. Akre & Wilson terminated Dec 1997 for refusing to lie in Monsanto's favor about BGH.

— Mikey Alexander (@mikeyhatesit) December 29, 2011
The four-part exposé prompted an email from a Monsanto lawyer to Fox News Channel chief Roger Ailes, which read, "There is a lot at stake in what is going on in Florida, not only for Monsanto, but also for Fox News and its owner."
A lawsuit filed by the reporters allege before they were fired for refusing to sign a gag order, they were told by station manager David Boylan: "We paid $3 billion for these television stations. We will decide what the news is. The news is what we tell you it is."
You can share this story on social media: