Inmate posts brazen prison van selfies on way to jail (PHOTOS)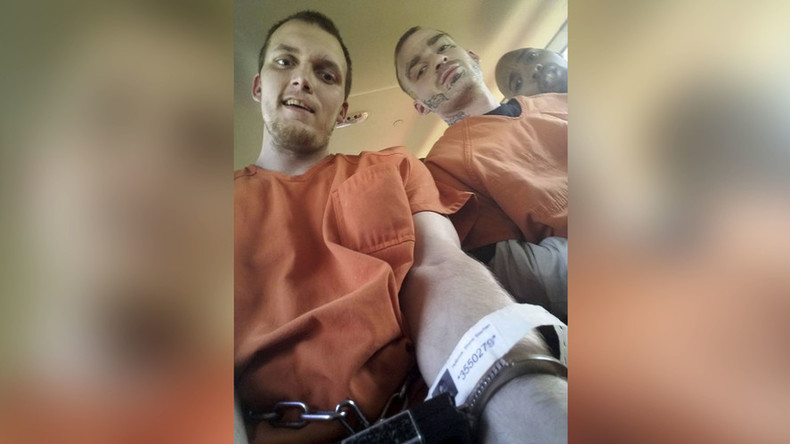 Police in West Virginia are investigating how a pre-trial felon suspected of armed robbery was able to share selfies taken with other inmates from inside a prison van online.
Shane Holbrook was reportedly able to sign into Facebook for nearly 30 minutes, posting three pictures of himself in an orange prison jumpsuit on the social network.
The 27 year old is accused of robbing three people in a vehicle at gunpoint in Huntington earlier this year. Holbrook is charged with first-degree robbery and malicious wounding for shooting one of the victims, local radio station KEE 100 reports.
However, Holbrook appears unruffled by the charges leveled against him in the photos taken while traveling to jail from a Cabell County court appearance last week.
READ MORE: 'Cowardly act': US punk band frontman boots girl off stage during selfie (VIDEO)
Somehow getting his hands on a camera phone, he posed for a series of selfies in which he is seen grinning alongside other West Virginia Regional Jail inmates.
One image posted to his Facebook account is captioned: "Go hard all day." It shows him alongside two unidentified prisoners, one man sporting a number of tattoos on his face.
Another selfie simple reads, "Catch up".
No doubt surprised at his camera work, friends of Holbrook left messages of support under the Facebook photos.
"Way to stick it to the man," wrote one person, while another said: "Omg… U R A NUT… I hate those chains."
Read more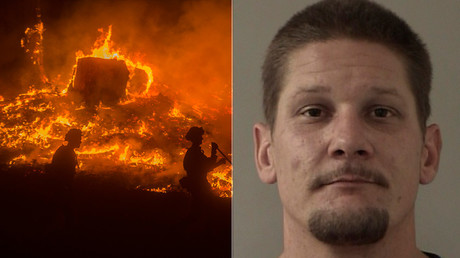 "I had some family members that seemed concerned about me," Holbrook later told WSAZ News.
"I just wanted them to know I was alright [and] not to stress too much."
One aspect of the selfie episode Holbrook wouldn't be drawn on, however, was how he managed to take the images in the first place.
"It might have been a cellphone involved in taking the pictures. That's about as much as I can say… Let's just say I found it," he added.
A statement released by Western Regional Jail to WCHS said it has a "zero tolerance" approach to contraband and will investigate the incident.
In the US, a phone is listed as a prohibited item in prison, along with money, weapons, alcohol and narcotics.
The United States Sentencing Commission states that any item deemed to threaten the "order, discipline or security" of a jail is also illegal.