'Cowardly act': US punk band frontman boots girl off stage during selfie (VIDEO)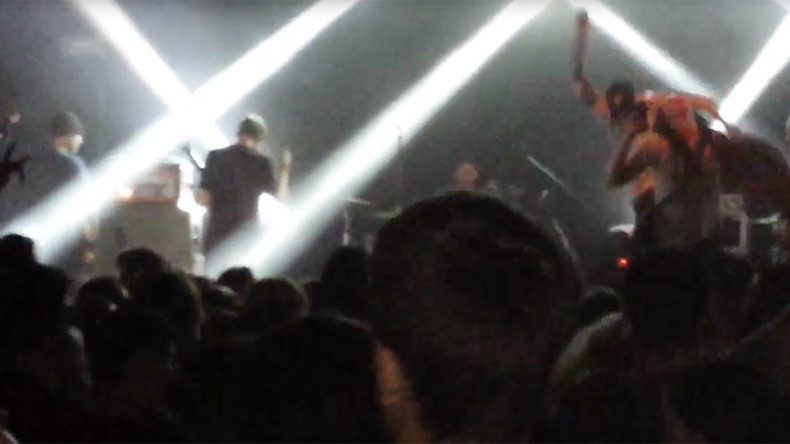 A selfie-taking fan was literally kicked off stage by the frontman of a Californian punk band as they performed at a Toronto venue on Sunday night.
'The Story So Far' were on stage at the Mod Club when a female fan joined them, facing the crowd to take a selfie.
A video of the incident shows lead singer Parker Cannon run up behind the girl and suddenly dropkick her in the back, knocking her off the stage.
The girl's dramatic fall into the mosh pit is met with cheers from fans while Cannon continues to sing and jump around.
A number of other fans then get up on stage and dive off, attempting to crowd surf.
The Mod Club has since issued a statement, Billboard reports, confirming the band are banned from performing again at the venue
READ MORE: World's creepiest selfie drives internet demented over ghostly apparition (POLL)
"On behalf of the venue we are appalled by the actions of the singer and do not condone these actions by anyone," Mod Club general manager Jorge Dias said.
"There was no report of injuries and the venue will not allow the band to play the venue again for their actions. I have never imagined and never seen anything like that at the venue in 14 years in operation. That was a very cowardly act."
The band's fans have expressed mixed reactions online - especially as this is not the first time Cannon has kicked a fan off stage for taking a selfie. In June, the singer kicked a young man off at the band's show in Texas.
Every time the story so far plays Canada I get to watch a new video of dumbass kids getting booted off stage for trying to take selfies

— Brendan Murphy (@brendan905) April 12, 2016
The Story So Far should blast their singer, showing masculinity/trend by abusing another person isn't 'cool' and 'scene' - she's a person

— Jessica (@jeskalilheart) April 13, 2016
Everyone slating @thestorysofarca for what Parker did. Everyone needs to lighten up. She shouldn't of been on stage. Simple as.

— Matt Whitney (@_LowerThanMatt_) April 13, 2016
Fans also took to the band's Facebook page to comment, with many blasting Cannon for his actions. The band has not replied to the comments or issued a statement about the incident.