Big cat cargo: 33 lions flown to wildlife 'paradise' after years of circus cruelty (PHOTOS)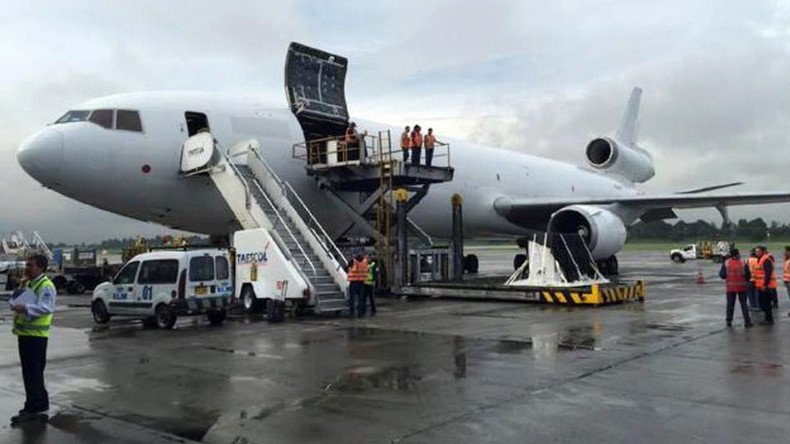 A group of 33 lions who have suffered years of horrific abuse at outlawed circuses in Peru and Colombia are being flown by plane into South Africa to start a new life.
After years of living in squalid cages and facing cruelty at the hands of circus owners, the lions will finally taste freedom at the Emoya wildlife sanctuary north of Pretoria.
A MD11F cargo aircraft chartered by Animal Defenders International is already in the air carrying the lions – many of them illegally declawed and mutilated - towards their African paradise.
The massive cat cargo has only been made possible after Colombia and Peru both banned the use of wild animals in circus acts in the last five years.
Among the 33 lions are Zeus, Simba, Easy, Iron and the one-eyed Ricardo. In total there are two large prides and a number of lion pairs.
On Friday, the plane made two collection stops in Bogota and Lima before setting off on a 16 hour flight to Johannesburg. The operation has been dubbed the Spirit of Freedom and is believed to be one of the biggest transfers of its kind.
"These lions have endured hell on earth and now they are heading home to paradise," ADI President, Jan Creamer said.
"This is the world for which nature intended these animals for. It is the perfect ending to ADI's operation which has eliminated circus suffering in another country."
Emoya Big Cat Sanctuary founder Savannah Heuser has given an insight into what pleasures await the animals.
"The lions are returning to where they belong. This is their birthright. African sun, African night skies, African bush and sounds, clouds, summer thunderstorms, large enclosures in a natural setting where they can remember who they are," she said.
It's understood that the rescued cats will be released into 'bonding' camps before they enter 5-acre enclosures complete with watering holes and natural vegetation.
Nearly-blind Joseph and one-eyed Ricardo will be given "special needs" enclosures due to their sight problems.
A cost breakdown on the Lions Back to Africa rescue page shows that at least $8,400 is needed to feed and house a lion at the big cat sanctuary for one year.
You can share this story on social media: