Heroic rescue dog dies after saving 7 lives in Ecuador quake search (PHOTOS, VIDEO)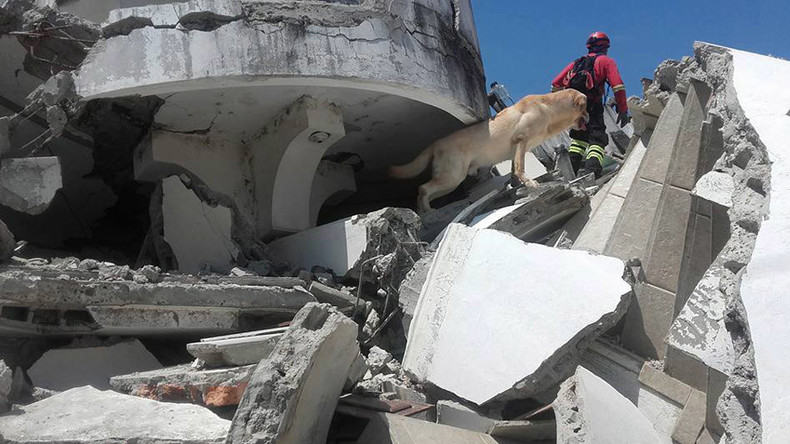 Rescue dog Dayko died while searching for victims of the recent Ecuador earthquake, saving seven people trapped beneath the rubble before passing away.
Dayko was supporting firefighters as they searched for survivors of the 7.8-magnitude earthquake which struck last week.
Over 600 people were killed and more than 12,000 injured by the devastating quake.
READ MORE: Drone footage reveals scale of destruction by Ecuador quake (VIDEO)
Search teams accompanied by rescue dogs have been combing the rubble for survivors in harsh conditions.
Dayko was helping Ibara firefighters in the coastal tourist town of Pedernales before he died from dehydration, according to El Universo.
The firefighters paid tribute to their canine colleague in a Facebook post, thanking him for his courageous work.
Dayko, who had national and international certifications, died in the early hours of Friday morning.
Many other rescue dogs have sustained injuries during searches as the country continues to suffer from aftershocks.
Kili, a dog trained to find survivors as well as dead bodies, injured her paw during a rescue operation in Manta and is being sent to Quito for observation and rest.
She will resume helping the search, if needed, when she returns to full fitness, according to her police handler.