5000yo iceman mummy 'resurrected' by 3D printer (VIDEO)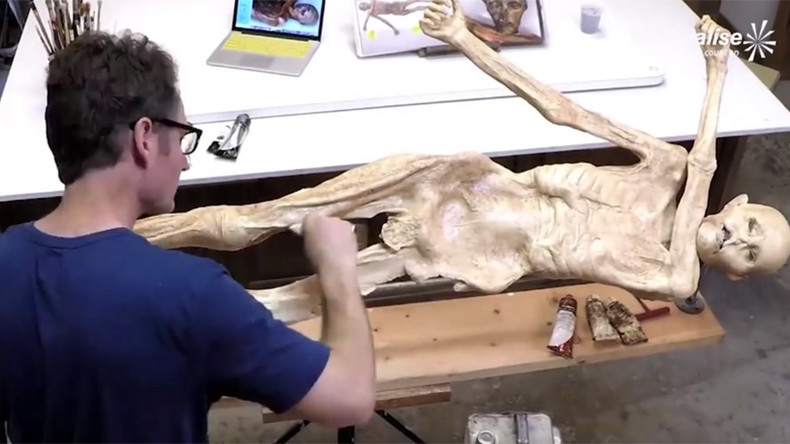 Europe's oldest known mummy has been brought back to life in the form of three, 3D printed, life size models.
Ötzi the "iceman", the 5000-year-old mummy found in the Alps 25 years ago, has been recreated by paleoartist Gary Staab.
Staab painstakingly sculpted and handpainted resin replicas of the ancient man after the 3D printing based on CT scans took place.
Staab said it was a "spectacular project" to work on, noting the iceman's death is actually a thousands-year-old murder mystery.
Ötzi's remains - preserved in ice since the Stone Age - were found in 1991 by two hikers in the Ötztal Alps in Italy. Clothing and equipment, including an axe and a backpack, were also found at the site.
In 2001, scientists determined that Ötzi', who had 61 tattoos on his body, was killed by an arrow when he was about 45 years old. Further analysis of the remains revealed hand wounds suggesting the man had been involved in hand-to-hand combat shortly before his death.
CT images of the remains were crucial in developing the models.
"The final replica is much more accurate when you're able to use scanned data as opposed to doing analogue measurements," Staab said.
"The reconstruction of the hands was a challenge, since they could not be captured on CT scans," the South Tyrol Museum of Archeology, where Otzi is held, said.
His mummified remains have been housed at the South Tyrol Museum of Archaeology in Bolzano, Italy since 1998.
One of the new replicas will tour the US from October 2017, while the other two will be used for teaching purposes at the Cold Spring Harbor DNA Learning Center in New York.