History of 420: Stoner holiday oddly coincides with Hitler's birthday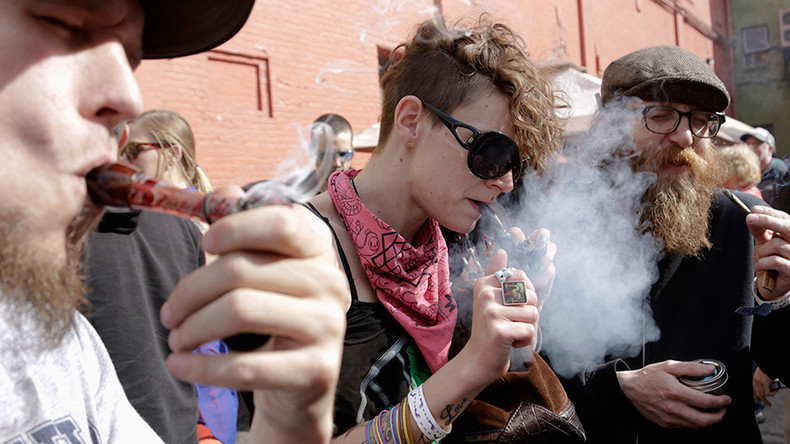 The growing number of legal, and illegal, cannabis smokers in the US and around the world are celebrating their international holiday Wednesday.
The origins of the April 20 celebration are a bit hazy, much like the day itself, but the consensus seems to circle back to 1971 at a high school in George Lucas's neck of the woods, Marin County, California.
Five students, known as the Waldos, supposedly made it their mission to meet every year on this date by the school's Louis Pasteur statue at exactly 4:20 p.m.
hey everyone its 419 u got a minute ? hahahahaha

— Christopher Olson (@intunes1) April 19, 2016
They used the code word "420 Louis" to signal their intentions to smoke weed, according to High Times, a publication that's done a lot of field research on this debate.
Some think it has something to do with Adolf Hitler's birthday, which was April 20, 1889, perhaps as a way of temporarily forgetting the genocide he inflicted more than 70 years ago.
Others theorize 420 was police code to indicate "marijuana smoking in progress" or relates to the mathematics of Bob Dylan's Rainy Day Woman 12 & 35.
The "grassroots" phenomenon eventually took hold in mainstream culture with lots of references and nods, including the films Pulp Fiction and Lost in Translation, where clocks were set to 4:20.
Two of the most famous friends of Mary Jane, Snoop Dogg and Willie Nelson, recorded a song together on April 20, 2009 called "Roll Me Up and Smoke Me When I Die".
"It was a beautiful day, it was a roomful of smoke. It was historic," Snoop said.
Momentum behind the legalization of marijuana is gaining with Pennsylvania becoming the 24th US state to OK medicinal marijuana on Sunday.
The increased use means there's more data to study the ancient drug's effects, with one report revealing that consuming cannabis is 114 times safer than drinking alcohol.
hope my grades celebrate 420 and get super high today

— Tweet Like A Girl (@TweetLikeAGirI) April 20, 2016
Man made beer, God made weed. Which is better?

— iToons (@drycracks) April 13, 2016
Women have started using it for menstrual pain relief, including vaginal suppositories.
Another report from the Colorado Department of Public Safety last month looked at the impact of the state's legalization and regulation of cannabis in 2013.
While the report notes that due to a lack of historical data on the issue, "it is too early to draw any conclusions about the potential effects… on public safety, public health, or youth outcomes," it saw an increase in the number of calls to poison control mentioning human marijuana exposure, with 227 last year.
The number of marijuana arrests and court filings decreased by 46 and 81 percent respectively since 2012.
Usage among young adults ages 18 to 25 is up to 31 percent in 2014 versus 21 percent 10 years ago whereas those older than 25 made up 12 percent of the population two years ago.