Happy Hijab Day! Paris students of all faiths invited to cover their hair
Published time: 20 Apr, 2016 12:51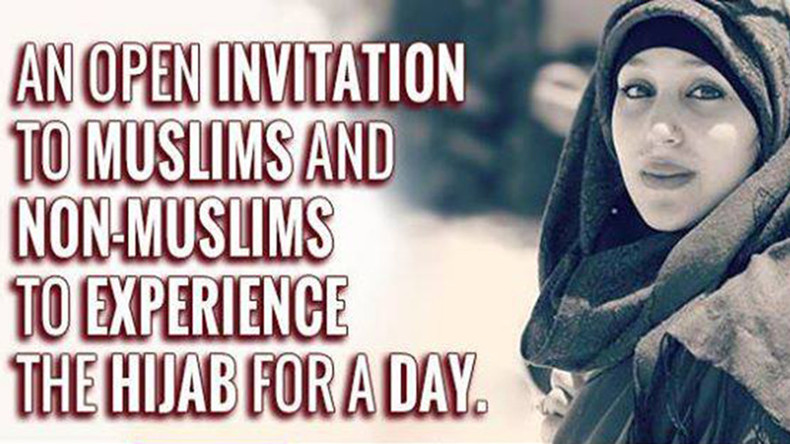 Students from the Sciences Po University in Paris are hosting 'Hijab Day' to combat the stigma surrounding the headscarf worn by Muslim women.
Organizers from the group's Facebook page said "Veiled or not, we are all equal," and more than 250 people said they would attend the event, which will finish at 9 p.m. on Wednesday.
Both males and females were welcomed to try on headscarves and participate in tutorials and discussions.
Writing on the Facebook page, the group said students could try on "our prettiest scarves and pashminas", because they wanted to highlight women's decisions "to dress however they want and be respected in their choices."
READ MORE: Hijab Barbie: New doll exposes internet's Islamophobia
"We believe a single symbolic action such as covering our hair for a day in class, in the street, etc, still allows us to take conscience of the looks and - well, at least an impression of the experience of stigmatization that a lot of veiled women in France go through for too many years," organizers added on the event page.
Sciences Po University does not support the initiative, even though it "allowed" Hijab Day to take place.
Twitter trolls accused the university of "ignoring the rights of the secular French Republic" and called the hijab "oppressive" to women.
France banned the full face veil in April 2011 and has repeatedly been accused of stigmatizing the country's 4.7 million Muslims.
READ MORE: 'Beginning of end of normal life for Muslims in France'
Earlier this month, Socialist Party minister Laurence Rossignol compared Muslim women who wear the veil to "American negroes" who supported slavery.