20,000 people chant 'F*ck Donald Trump' at Coachella music fest (VIDEO)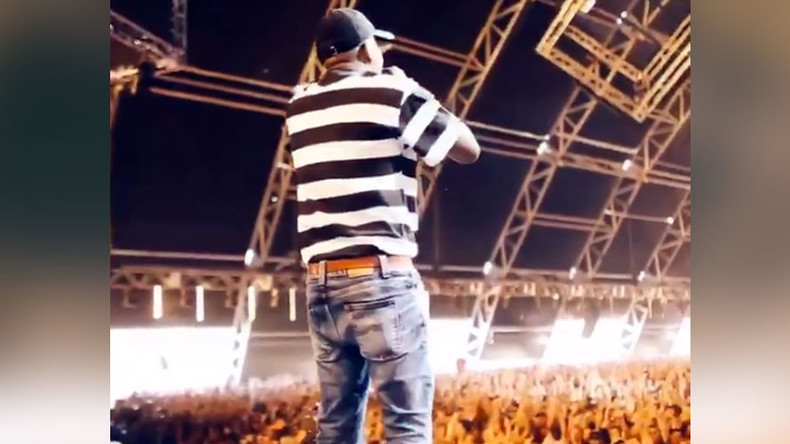 Republican presidential candidate Donald Trump appears to be losing the sweaty fashionista and hipster vote ahead of June's California primary as 20,000 fans of hip-hop star YG screamed "F*ck Donald Trump" at the Coachella Music Festival this weekend.
The Compton native performed his song "FDT" during DJ Mustard's set while thousands gave the middle finger to Trump and everything the presidential hopeful represents.
The 26-year-old YG collaborated with Nipsey Hussle earlier this month to release the track, which addresses Trump's openly racist attitudes towards African-Americans.
Hip-hop fans were also "feeling the Bern" when Democratic candidate Bernie Sanders introduced the alternative group Run the Jewels on stage with a video message.
"I thought the least I could do for both of you is help you out by bringing a few young people together," Sanders joked.
What was supposed to be the biggest act at the festival, the Guns N' Roses reunion, fell flat, in part because lead singer Axl Rose had to perform on a giant throne due to a broken foot - and fans were not impressed.
READ MORE: Welcome Back to the Jungle: Guns N' Roses to reunite after 20yrs
Axl Rose wriggling about in that chair is pretty creepy

— Louis Kerry (@LouisK68) April 18, 2016
Guys, these videos of fat Axl Rose squirming in his rock-n-roll chair are KILLING ME. "Like Joe Dirt crossed with Professor X"-@dailybeast

— Alexei (@heyalexei) April 17, 2016
This year is the 10th anniversary of Daft Punk's epic set, which was recorded by multiple cameras in the infancy of the digital revolution and stitched together for all to enjoy.