Castaways rescued from remote island after spelling 'help' on beach (PHOTOS)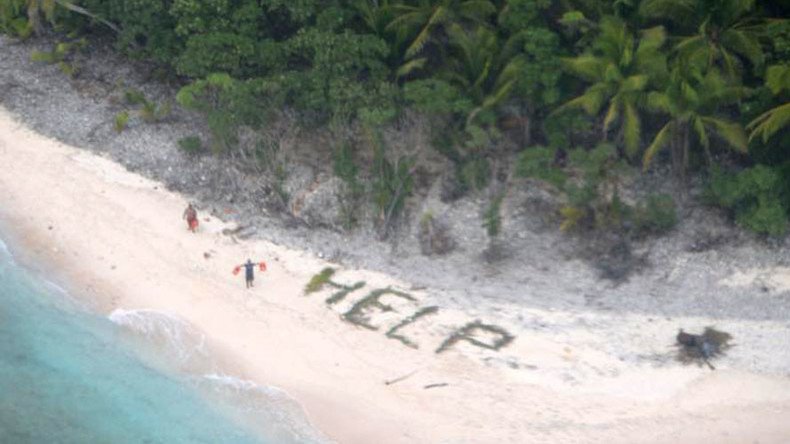 Three men marooned on a remote Pacific island for three days channeled their inner-Tom Hanks, spelling "help" on the beach with palm fronds in the hope it would be spotted from above - and it was.
"This isn't the set of Castaway," the US Coast Guard wrote in a Facebook post detailing how the men were in a 19ft (5.8-meter) row boat going between two Micronesian islands on April 4 when a large wave overwhelmed their small boat.
To save themselves from drowning, the men, none of whom have been identified, had to swim 2 miles (3.2km) overnight before landing on the uninhabited island of Fanadik.
Their recovery was assured when their giant help sign was finally spotted by a rescue party sent out after their missed their scheduled flight.
The men's families reported them missing to the US Coast Guard, who dispatched four vessels and a Navy P-8 Poseidon aircraft from Misawa Air Base in Japan.
The Naval air crew spotted their makeshift sign on the beach Thursday and reported back to base, which sent a vessel to safely recover them.
The Coast Guard said the "ingenuity" of the men to create the sign, as well as the fact they had life jackets, "contributed to their safe rescue."
It is not known if they had a discussion about their 'desert island top five' lists.
My desert island top 5 movie soundtracks (in no particular order):

High Fidelity
Reservoir Dogs
Pulp Fiction
Peter's Friends
The Crow

— Rosh (@roshabides) February 3, 2016
You can share this story on social media: