Fake priest beats up businessman in Russia's Novosibirsk (VIDEO)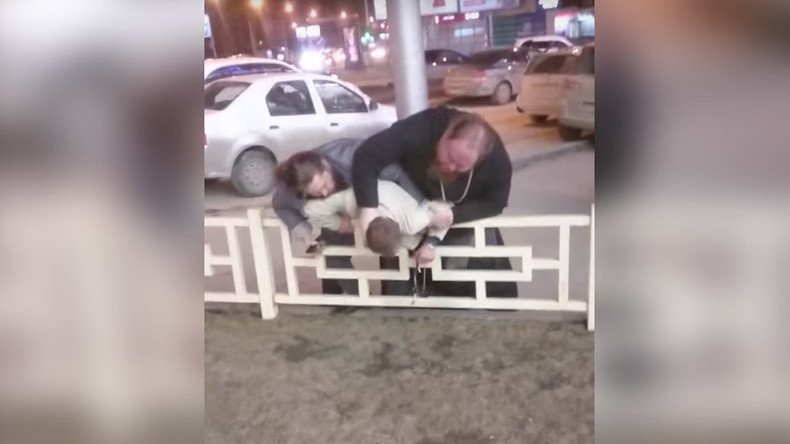 A video of a huge man dressed in the robes of an Orthodox priest beating up another person in Novosibirsk went viral on the Russian internet, with users believing it was an actual Church representative.
There were two attackers who were present in the footage, who were identified as former abbot Feodosy and his brother.
The incident on Sunday was took place after an argument about the former priest's car blocking an entrance to a shopping mall's parking lot turned into a fistfight.

The footage shows Feodosy and his brother immobilizing their victim, with the man in the robe hitting the person on the head with his fist.
"I'm going to break your glasses and everything you have… why are you doing this, you toadstool?.. I'll tear off your ears and shove them up your a**!" the former priest can be heard shouting.
The victim, who turned out to be a local business owner, Vadim Maltsev, claimed that he was also assaulted with a large Orthodox cross worn by Feodosy.
Both sides filed statements with the police after the brawl, accusing each other of virulent abuse and battery.
Feodosy, whose secular name is Aleksandr Cherneykin, was defrocked by the Russian Orthodox Church back in March 2015 for various violations of clerical rules, which included taking part in a local politician's campaign, selling jewelry to his flock and making calls for a split in the Church.
The ruling by the Church also forbid Cherneykin from wearing a priest's black gown in public.
You can share this story on social media: