Fox News embraces OJ Simpson cop Mark Fuhrman as internet debates 'Who's more racist?'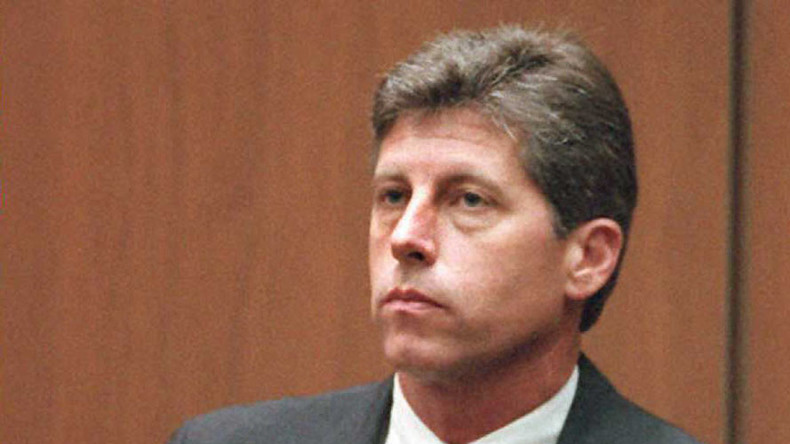 Mark Fuhrman, the former LAPD detective who "helped" OJ Simpson win his double murder trial, is now a regular contributor on the Fox News Channel, prompting the internet to ask "who's more racist?"
Following the recent People Vs O.J. Simpson mini-series about the "trial of the century" 20 years ago, new attention has been focused on the man who was convicted of perjury for lying about his use of the racist epitaph "ni**er".
Leave that old station. It's got the smell of n***ers that have been beaten and killed in there for years.
Up to 13 hours of recorded conversations between he and a screenwriter revealed Fuhrman using the N word more than 40 times and describing violent acts of police brutality he carried out against black people.
No problem, not even any marks, Dana. Just body shots. You ever try to find a bruise on a nigger? It's pretty tough, huh?
This was in spite of his denial on the stand that he used the incendiary word, which earned him a perjury conviction after the trial was over.
Anyway, we basically tortured them, there was four policemen, four guys. We broke 'em. Numerous bones in each one of them. Their faces were just mush.
LAPD chief at the time, Willie Williams, said "the wounds that were opened up by his comments will take years for this department to overcome".
its tragic that mark fuhrman gets to work for fox news. hes a disgusting human.

— Megan / Red Jewel (@Jewelxo) April 7, 2016
Mexicans can't understand English, but if you beat them hard enough, they understand.
Not only did Mark Fuhrman admit on tape he frames Black ppl, he pleaded the 5th when asked in court if he framed OJ #ThePeopleVsOJSimpson

— Tariq Nasheed (@tariqnasheed) April 6, 2016
Given the Fox News Channel's long history of race-baiting, the convicted criminal was hired as the network's "forensic and crime scene expert", commenting on stories including Black victims of police brutality.
One of Simpson's defense lawyers, Harvard law professor Alan Dershowitz, said on Fox News about Furhman recently, "He's a smart guy, and I think he's rehabilitated himself. Look, he had a terrible past and did some terrible things and said some terrible things. He helped us win the case."
Despite Dershowitz's belief that Fuhrman is a changed man, the "white supremacist" cop's comments on Fox News suggest otherwise.
Using coded racist language in 2006, he described how the people he dealt with "will kill someone and go have some chicken at KFC."
More recently, while weighing in on the racially-charged Ferguson protests following the police shooting of unarmed Michael Brown, Fuhrman used the classic racist pronoun "these".

"It doesn't matter what you do, you're not going to appease these groups. They are doing this strictly along racial lines."
He also cited a number of stereotypes when commenting on last year's Baltimore rebellion.
"Disappointment of their lack of, uh, whatever they want, which seems to be going into the liquor store and getting alcohol, getting a new TV, getting a microwave, taking a check cashing facility where they cash their checks and destroy that."
The former Marine also defended the actions of White school police officer Ben Fields, who dragged and threw a Black high school student across the floor.
Fuhrman's racism appears to extend to Muslims, based on his comments on Fox about the arrest of a teenage Muslim "clockmaker" Ahmed Mohamed. "I don't feel sorry for Ahmed ... He was passive aggressive," said Fuhrman.
Even when they don't have Fuhrman as a guest, Fox News has a rich history of racist coverage.