Ice cream firm bows down for forgiveness over tiny price hike in Japan (VIDEO)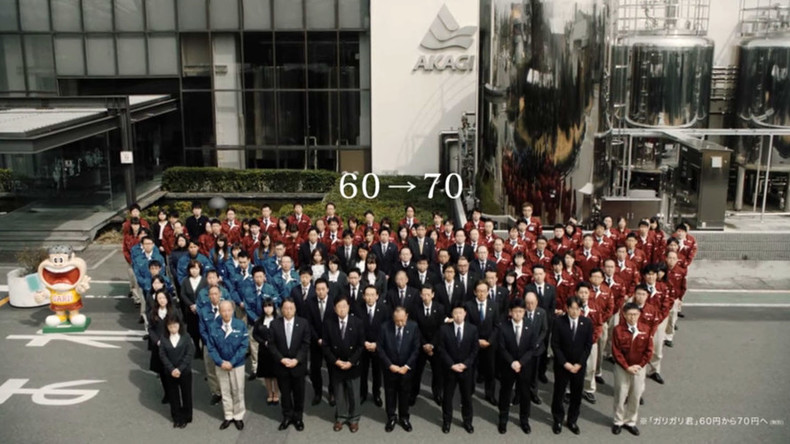 A Japanese ice cream firm, known for its quirky mascot 'Crunchy Boy' and strange flavors, has created a heart-breaking video apology for marginally raising its product prices.
Akagi Nyugyo Co Ltd has been whipping up frozen desserts for the people of Japan since 1961, including bizarre ice cream flavors like corn soup, potato stew, as well as a reportedly unsuccessful experiment with a ketchup-infused ice lollie.
READ MORE: Virtual reality sex suit looks as disturbing as it sounds (VIDEOS)

Gari Gari Kun (Crunchy Boy), a popular cartoon kid with a massive mouth well suited for eating ice cream, came on the scene in 1981 and stars in a number of the manufacturer's outlandish commercials.
But the once sweet Japanese ice cream game has turned a little sour of late. Executives behind Gari Gari Kun say a "harsh" business environment has forced them to raise the price of the children's lolly, resulting in a very solemn, very Japanese apology to customers.
The price hike is only 10 yen, or about US$0.09, but is the first such change from the company in 25 years.
Tugging on the heartstrings of ice cream lovers, the company's glum employees were filmed bowing outside their offices alongside their famous cartoon ice cream muncher.
Rising overheads in labor, transport and raw materials are cited by the ice cream makers as the reason for the inflated price, which began on April 1.
"... changes in the global food demand, high level of logistics costs, tight supply and rising prices, such as packaging materials… labor costs… have exceeded the limit they can be," read a company statement in March.
You can share this story on social media: