Fun & games: EgyptAir hijack video shows hostages joking around (VIDEO)
Published time: 31 Mar, 2016 11:37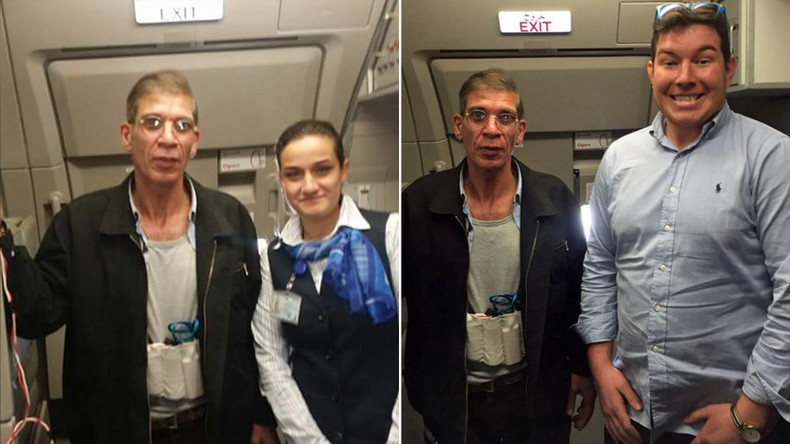 A video has emerged conveying the remarkably relaxed atmosphere aboard the hijacked EgyptAir flight as the infamous Ben Innes 'selfie' is taken.
Another passenger films as Innes poses for a photo with hijacker Seif Eldin Mustafa, who claimed to be wearing a suicide belt, later revealed to be fake.
The internal Egyptian flight was diverted from its original course of Alexandria to Cairo and instead landed at Larnaca Airport in south-eastern Cyprus on Tuesday morning. The hijacker soon allowed most of the passengers to disembark, but four passengers and the flight crew remained on board until shortly before the suspect surrendered to police.
In the footage filmed during the standoff, airline staff remain calm in the midst of the hostage crisis.
READ MORE: EgyptAir flight MS181 hijacker captured after 6-hour standoff in Cyprus
The clip shows two air hostesses standing beside the hijacker, chatting and laughing before giving Innes the go ahead to get his picture taken with him.
The air hostess takes a couple of photos for Innes to choose from as he puts on a cheesy grin and points to Mustafa.
He can be seen afterwards looking at his phone and reviewing the pictures.
One of the air hostesses then steps in for a snap as the hijacker remains muted throughout the photoshoot.
Some people have criticized Innes' "hijack selfie", including his mother who branded his actions "stupid" and pointed out the photo was not a "selfie".
"I'm not sure why I did it, I just threw caution to the wind while trying to stay cheerful in the face of adversity," Innes told the Sun.
The 26 year old, based in Aberdeen, Scotland has shot to fame thanks to the viral picture, sparking the hashtag #HijackerSelfie and becoming an internet meme along the way.
His smiling face has been planted into a number of deadly situations including JFK's assassination and 9/11 while other photoshopped creations show him posing happily with Islamic State (IS, formerly ISIS/ISIL) militants and Adolf Hitler.
Mustafa appeared in a Cyprian court in Larnaca Wednesday and was remanded in custody for eight days on suspicion of hijacking, abduction, threatening violence, terrorism-related offences and two counts related to possession of explosives.
He told police he acted because he wanted to see his estranged wife and children, saying "what should one do?"
READ MORE: Lovesick at Larnaca: Was EgyptAir hijacking driven by broken heart?