'Come to Egypt, get hijacked!' Tour company uses EgyptAir drama for promotion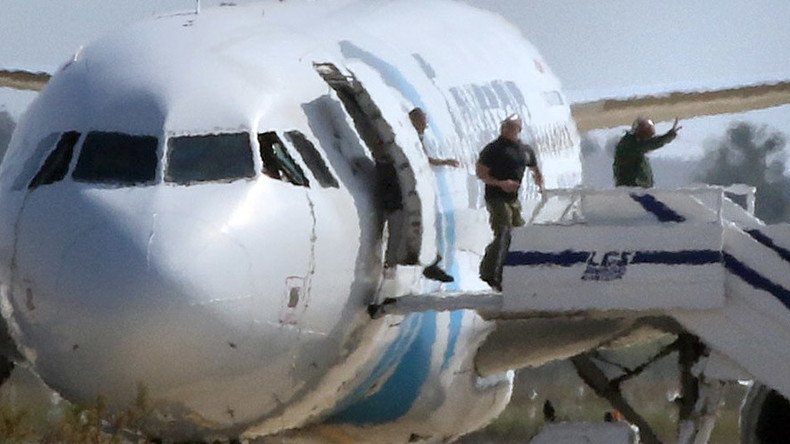 An Egyptian tour company is jumping on the back of Tuesday's EgyptAir hijacking to promote its trips, with the suggestion "who knows you might get hijacked and go to Cyprus".
Lions Trips published a post on Facebook shortly after the standoff between hijacker Seif Eldin Mustafa and Cypriot authorities ended.
Flight MS181, an internal Egyptian flight from Alexandria to the capital Cairo was diverted to Cyprus Tuesday morning, landing at Larnaca Airport with 81 passengers onboard.
It was believed the hijacker was wearing a suicide belt, however, it later emerged that this information was incorrect.
READ MORE: EgyptAir flight MS181 hijacker captured after 6-hour standoff in Cyprus
No-one was injured in the incident, which lasted six hours until the hijacker finally released all of the hostages and surrendered to police.
Lions Trips didn't waste any time, however, in turning the international incident into a "humorous" attempt at marketing.
The company promotes an upcoming trip to Hurghada, a beach resort along the Red Sea coast, by suggesting that the plane could be hijacked and passengers could end up taking a surprise bonus trip to Cyprus.
The post has had more than 5,700 shares and garnered a mixed response from online users.
Some praised the marketing initiative, calling it "genius" while others called it out as a cheap stunt, which showed no consideration for those on the plane and their families.
"I think seeing too much blood and too many graphic videos on social media people have become heartless," one person commented.
READ MORE: Lovesick at Larnaca: Was EgyptAir hijacking driven by broken heart?
You can share this story on social media: