Saudi Twitter mocks Brussels attack pic, says West 'ignored' Middle East bombings
Published time: 27 Mar, 2016 02:37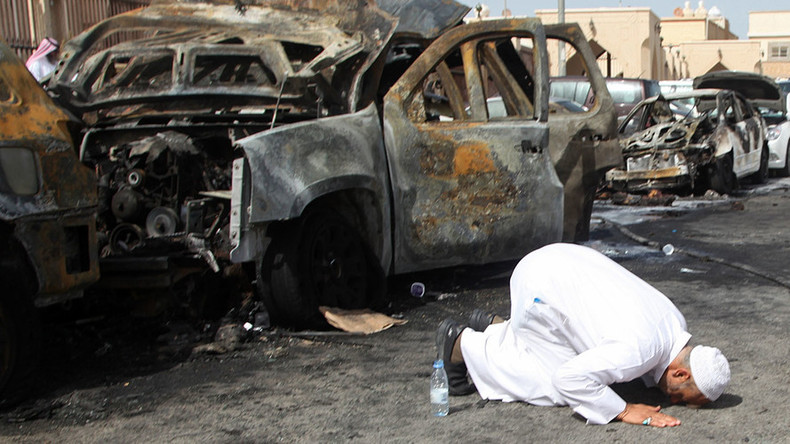 Arabic-speaking Twitter users have been trolling a cartoon decrying recent terror attacks in Belgium and France by sharing a new version adding Turkey and Saudi Arabia to the list, arguing Europe has been turning a blind eye to attacks in other countries.
While this week's deadly Brussels attacks still grip social media, these were just the latest terrorist atrocities targeting civilians around the world. Earlier tragedies, while equally shocking, received a very different response – something that didn't go unnoticed on Twitter.
To highlight the perceived double standards in sympathy, some compared the much-lamented Paris and Brussels attacks to the latest bombing in Ankara on March 13 that killed 37 and injured over 125, as well as suicide bombings in Saudi Arabia.
READ MORE: Car bombing rocks Turkish capital Ankara, 34 dead, 125 injured
A photoshopped cartoon accompanied by the hashtag "#الإرهاب_في_السعودية," which translates to "what about Saudi," has been trending on Saudi Twitter.
The original version of the illustration by French cartoonist Plantu shows the French flag crying and comforting the Belgian flag, while marking the dates of the attacks in both countries.
One variation includes the Turkish flag in order to call attention to the victims of a wave of bombings there over the past few months, while the latest edition saw a Saudi flag mourning the victims of the "125" attacks it claims have struck the kingdom since 2003.
READ MORE: Suicide bombing in central Istanbul main shopping street kills 5, injures 36
Not everyone approved of the initiative, however, with some users clashing in comments over the role the Saudis and Turks have allegedly been playing in fostering the very extremist groups and ideologies responsible for the terrorist acts.
Sectarian tensions also came up, such as in the case of Saudi Arabia, where Islamic State (IS, formerly ISIS/ISIL) terrorists have lately been specifically targeting Shia mosques, killing dozens in just the latest two attacks, which occurred in October of 2015 and January of this year.
READ MORE: At least 4 killed in Shiite mosque bomb & gun attack in Saudi Arabia
While Riyadh has declared IS an enemy, the ruling House of Saud's ideology, known as Wahhabism, has been often compared to the radical interpretation of Sunni Islam espoused by IS.
This is not the first time there has been a clash in attitude over how acts of violence are responded to on social media depending on which nation they occurred in.

Facebook has been criticized for being selective in activating its "Safety Check" feature, which enables users to let their friends know that they are unharmed during tragedies. While it readily employed the system following the terror assaults in Paris on November 13 of last year, when a wave of terrorist bombings hit Nigeria just days later, it only turned on the service after an outraged outcry from social media.
While social media users were quick to change their profile pictures to the Belgian or French flags following the attacks there, as landmarks across the world lit up in the two nations' colors, nothing of the sort followed attacks on Lebanon, Turkey, Nigeria, Russia, or other countries affected by terrorism.