Holi highlights: Colors festival welcomes spring & triumph of good over evil (PHOTOS, VIDEOS)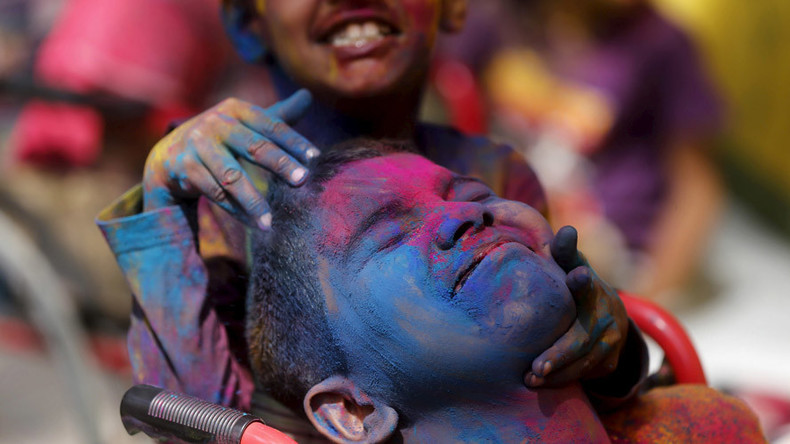 Armed with bright powders, millions of people around the globe have welcomed spring with the Hindu Festival of Colors.
People of all ages celebrated the vibrant occasion by dancing, singing, and, most importantly, showering one another with bright colors to mark the triumph of good over evil.
Google Doodle also got in on the act by brightening up the website's homepage with a collage of colors.
Even Pakistan's government tried to improve relations with neighboring India after decades of tension by officially recognizing the Hindu festivals of Holi and Diwali as public holidays in a landmark ruling.
Last week, celebrations kicked off early in the Indian state of Uttar Pradesh with a festival called Lathmar Holi where women use bamboo sticks to playfully hit men, who in turn tease and cover them in bright-colored powders and liquids.
But the bigger celebrations were saved for last.
Thousands of people gathered outside temples across India to immerse themselves in prayer and colors.
In recent years, Holi has become increasingly popular among non-Hindus.
South Asians from Muslim and Sikh faiths have been embracing the ancient festival as a sign of unity between cultures and religions.
Showing some love for Indian culture, celebrities such as Courtney Love Cobain and cricket player Glenn Maxwell also had a taste of the rainbow.
You can share this story on social media: