Miracle escape: Roof blown off building lands dangerously close to woman & child (VIDEO)
Published time: 21 Mar, 2016 21:26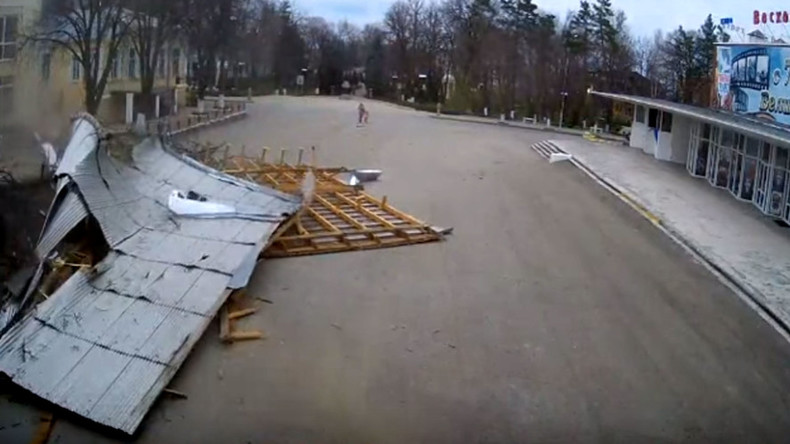 A woman and a child in southern Russia narrowly escaped death when a hurricane-like gust of wind sent the roof of a nearby building flying in their direction.
A CCTV camera caught the moment when an enormous piece of roof detached from a registry office in the town of Labinsk in Krasnodar region and almost landed on a mother walking along the street with a child and a couple of other passers-by.
None were injured, local emergency service reported, according to LifeNews.
There were sustained wind speeds of up to about 54 mph in the area, the local weather service reported on Saturday, March 19.
In a separate incident, an entire roof being blown off a 5-storey apartment block in the Siberian town of Dudinka was captured on video by curious neighbors, who witnessed the whole event from the opposite house.
There were no casualties in that incident either.
A woman's voice heard on the footage says that a lucky car owner, whose vehicle had been parked near the building, had driven away shortly before the lot was covered by the large piece of the tin structure.
"He left just in time!" the astonished woman says.
Ten rescuers with three pieces of equipment were sent to the area to clear the debris, the local EMERCOM press-service reported, according to the MIR24 news outlet.
Air temperature in the town dropped to minus 10 degrees Celsius (about 50 degrees Fahrenheit) on Monday, with strong gusts of wind reaching speeds of up to almost 54 mph. The one and only road connecting the town to other cities was closed in the morning of the same day due to poor weather conditions.