Rampaging buffaloes kill each other instantly in head-on collision (VIDEO, GRAPHIC)
Published time: 21 Mar, 2016 12:28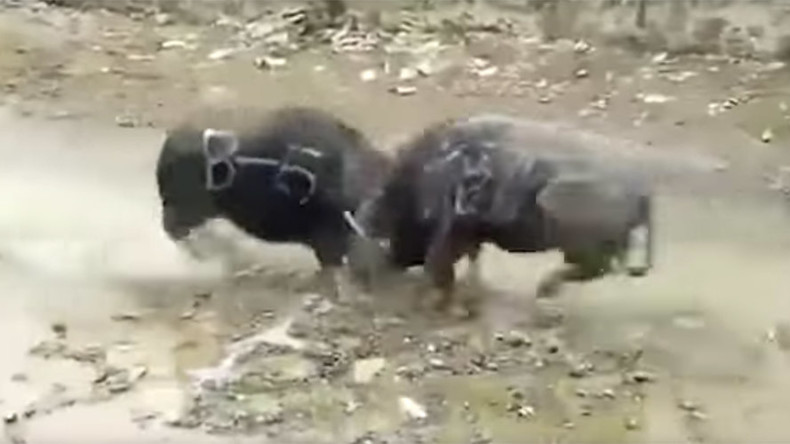 Disturbing footage has emerged from China appearing to show two buffaloes dying on impact after charging into one another with sickening force.
In what looks like an organized duel between the animals, a sizeable crowd of spectators are seated around a mud track.
The buffalo, which have been painted or chalked with writing on their sides, barrel towards each other at top speed from either side of the 'arena'.
They collide head-on, both dropping to the ground where they remain motionless. One of the buffaloes lies with its mouth and nose submerged in a muddy puddle while the other can be seen bleeding heavily from its head.
The crowd can be heard cheering and whooping after the incident, as a number of people rush to the aid of the animals, appearing to give one CPR.
Water buffalo, as the animals in the video appear to be, are known for their immensely thick and heavy skulls while their total body weight regularly surpasses the 550kg (1,200lb) mark.
READ MORE: Trunk road rage: Angry elephant goes on epic rampage (VIDEO)
Buffalo fighting festivals are popular in some parts of Asia, particularly Thailand, Vietnam and the Philippines.
Yet this isn't the first time buffaloes have met a gruesome end in China. Last year in the city of Chengdu, police in their patrol car repeatedly knocked down an animal as it ran through the streets before eventually shooting it a number of times.
Sometimes, however, buffaloes don't help themselves. This one caused mayhem back in 2015 when it burst into the playground of a primary school in Guizhou Province.