'Enjoy the sex': Noisy casanova gets letter & condoms from next door neighbors
Published time: 10 Mar, 2016 12:09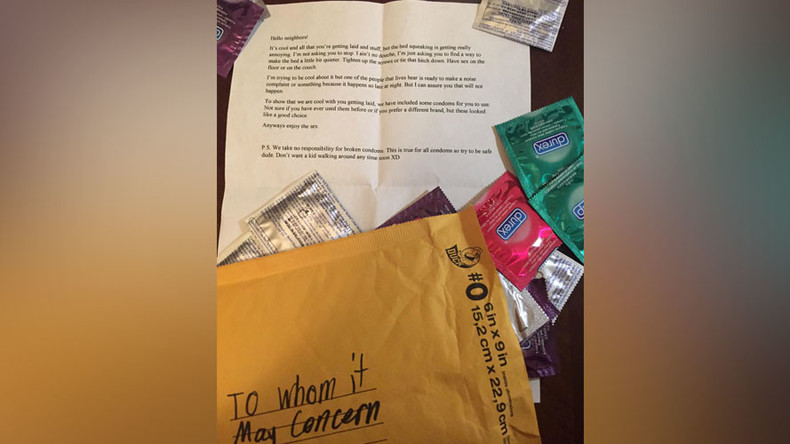 Instead of sounding off to the landlord, a group of housemates in the UK sent a letter and condoms to their neighbor as a clever way of informing him that his sexual antics were loud enough to hear next door.
The letter explains that while "it's cool" he's "getting laid and stuff", his bed was "getting really annoying" and they had had enough.
"I'm just asking you to find a way to make the bed a little quieter," the letter reads. "Tighten up the screws or tie that b*tch down."
The letter's author explains that he doesn't want the man to refrain from having sex because, as he says, he "ain't no douche", but does list some alternatives for the man: "Have sex on the floor or on the couch".
The levels of noise emanating from the man's apartment during the night has even driven one of the author's housemates to consider "a noise complaint or something".
However, for fear of offending his noisy neighbor and to really ring home that they don't want to interrupt his sex life, a selection of condoms was also included.
"Not sure if you have used them before or if you prefer a different brand," it reads, but "these looked like a good choice."
READ MORE: 'May I have a taste?' Minnesota woman arrested over 'children look delicious' note to neighbors

Signing off with the line "enjoy the sex", an important postscript is added: "P.S. We take no responsibility for broken condoms. This is true for all condoms so try to be safe dude. Don't want a kid walking round any time soon."