SeaWorld killer whale made infamous by Blackfish gravely ill
Published time: 9 Mar, 2016 21:04
Edited time: 9 Mar, 2016 21:15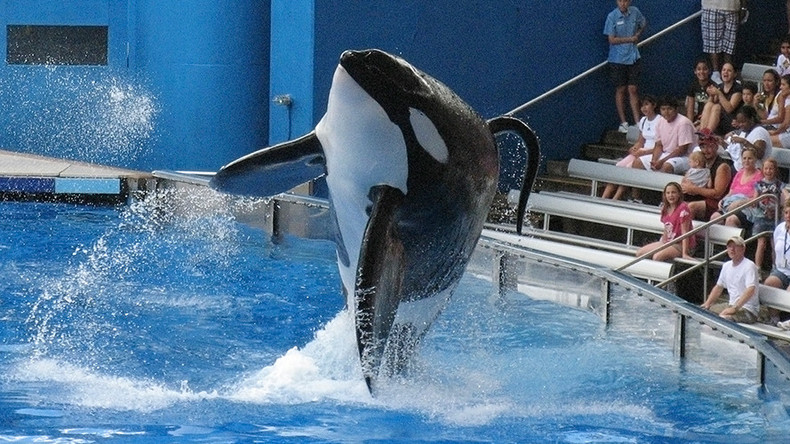 Tilikum, the 12,000-pound killer whale featured in the 2013 documentary Blackfish, could be dying in captivity at SeaWorld in Orlando, Florida.
While trainers from the company confidently brag about caring for the orca in a video posted on a SeaWorld blog, the 34-year-old mammal is suffering from a dangerous bacterial infection that could kill the killer whale.
"Our teams are treating him with care and medication for what we believe is a bacterial infection in his lungs. However, the suspected bacteria is very resistant to treatment and a cure for his illness has not been found," the company said in the same blog post.
SeaWorld insists that the large mammal has been receiving "the best care," despite depriving the creature of its natural habitat for over 23 years.
What's more, Blackfish alleged that Tilikum's captivity had caused him to become hostile, leading to his involvement in the deaths of three people. The acclaimed documentary warned of the dangers of keeping orcas out of their ocean habitat.
Sea World release a statement that Tilikum the killer whale is sick.
Lads you stole him and put him in a bath tub for 23 years. Big shock.

— Bry (@BryOnTour) March 9, 2016
The feature-length film explored Tilikum's interactions with humans and showed footage of the mammal attacking SeaWorld staff.
It was released after the whale dragged an experienced 40-year-old trainer, Dawn Brancheau, underwater, drowning her in front of a live audience during a performance in 2010.
People for the Ethical Treatment of Animals, an animal-rights group, said the whale has been confined to tiny tanks his whole life, leading to his aggressive behavior.
"He was torn away from his home and family in the wild at the age of 3, and he grew so massive inside the tiny tanks that he could not escape the aggressive, incompatible orcas who would leave him torn up and bloodied," PETA announced on their website Sea World of Hurt. "The constant stress and deprivation have driven him to kill three human beings and to wear his teeth to the nubs from chewing on the underwater bars of his prison."
Tilikum was reportedly captured near Iceland and has been used by SeaWorld to breed more whales because orcas can no longer be taken from the wild. He has sired 21 calves, 10 of which are still alive.