#DohaTiger: Big cat roams Qatar highway during rush hour (VIDEO)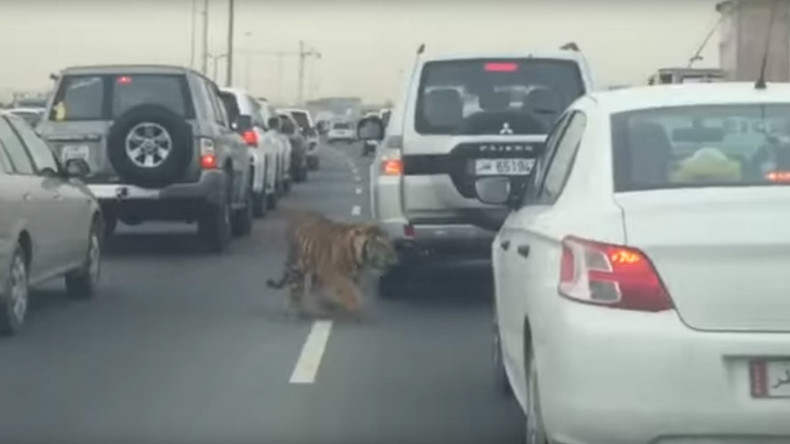 Qatar commuters got a big surprise during rush hour Tuesday as a runaway tiger cub roamed through the gridlocked traffic.
We move like cagey tigers
We couldn't get closer than this
The way we walk
The way we talk
The way we stalk
The way we kiss
We slip through the streets
While everyone sleeps
Getting bigger and sleeker
And wider and brighter
"Love Cats" by the Cure
They may be near extinction and rarely seen in the wild, but commuters in Doha witnessed a tiger cub wandering past their vehicle.
The confused, and probably scared, animal wandered the motorway for a few minutes before taking refuge, as cats do, under a car.
He was eventually retrieved by a man that we hope is an experienced animal handler and not just the estranged father of a racecar driver.
Authorities believe "the beautiful death machine" is an escaped pet as they found a collar and broken chain around its neck.
Keeping wild animals as pets is illegal in Qatar, carrying a fine of between US$275 to $2,750 as well as a prison sentence of up to six months.
The Ministry of Interior tweeted that they investigated the issue after hearing about it on social media and that it was now under control.
نطمئن الجميع بان الجهات المعنية تتابع ما يجري تدواله بشأن مشاهدة نمر في مناطق محددة في البلاد #الداخلية_قطر

— وزارة الداخلية - قطر (@MOI_Qatar) March 8, 2016
March is shaping up to be a bizarre month for commuters. Earlier this week, a naked woman caused a traffic jam in Houston when she climbed on top of a truck and danced for two hours.
And last week commuters in Bangkok were scared silly by the giant (animatronic) T rex working its way through traffic on the way to a new dino theme park.
READ MORE: Jurassic Parked: T rex stuck in rush hour traffic (VIDEO & PHOTOS)
You can share this story on social media: