Delinquent duo steal N. Irish fire engine, destroy 8 cars & crash into house (PHOTOS)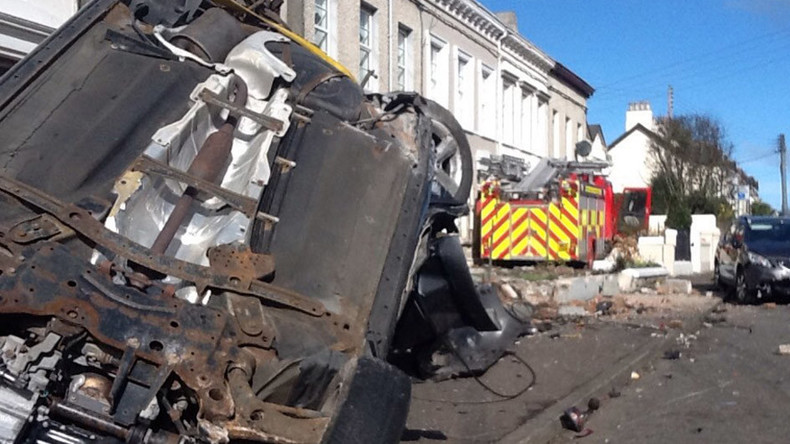 A teenager and a pensioner have been arrested by Northern Ireland police after a fire engine was stolen from the fire station, and then crashed into eight parked cars and a row of houses.
Residents of the seaside town of Larne were woken at 4:30 a.m. and greeted by a scene more common at a demolition derby. Cars were scattered like skittles and flipped on their roofs, and a wall was completely demolished as the fire engine came to rest in a front garden.
Emergency services - the real ones - were quick on the scene.
"We thought it was possibly an explosion, we rushed downstairs and immediately saw the carnage of a line of cars, think it was probably eight cars, one sitting on its roof, my own car was side swiped as well," local resident Thomas Jobling told UTV.
"The next thing we saw was the fire engine with the lights going and pulsing, and realised it was tight up against another couple of buildings in the terrace."
Nobody was seriously injured, but one of the two suspects, who fled the scene before being arrested, was briefly hospitalized. The men arrested are aged 66 and 19.
Dale Ashford of the Northern Ireland Fire Service described a scene of "absolute devastation".
"There was a lot of damage to vehicles in the street, and [the fire engine] ended up in the garden of a house as well. The fire engine is seriously damaged and that's going to have an effect on the community – but we still have crews on duty protecting the people of Larne today."
Local Ulster Unionist Party politician Roy Beggs said on Twitter that additional fire engines and support have been brought to the area to compensate for the damaged emergency vehicle. He suggested the cost of repairing the fire engine could reach £250,000.