Dummies test rapid 'splashdown' landings for NASA's Mars missions (PHOTO, VIDEO)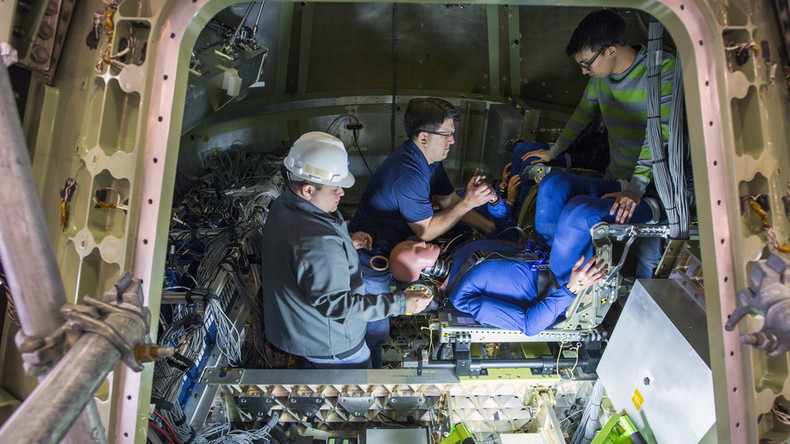 Crash test dummies are being put through their paces in a mock-up of NASA's Orion spacecraft to test how water-impact landings may affect astronauts on future missions to Mars.
NASA engineers are planning to conduct nine drop tests of the capsule - four of them vertical and five swing - though only some of the drops will see the dummies wearing protective suits and helmets.
"The suit has some influence on how the body responds to the loads," explains Langley project engineer Jim Corliss.
"Imagine you have a helmet on your head that has some weight to it. Lateral loads contribute to throwing your head side to side so there's an advantage to understanding how the test dummies respond with and without the helmet."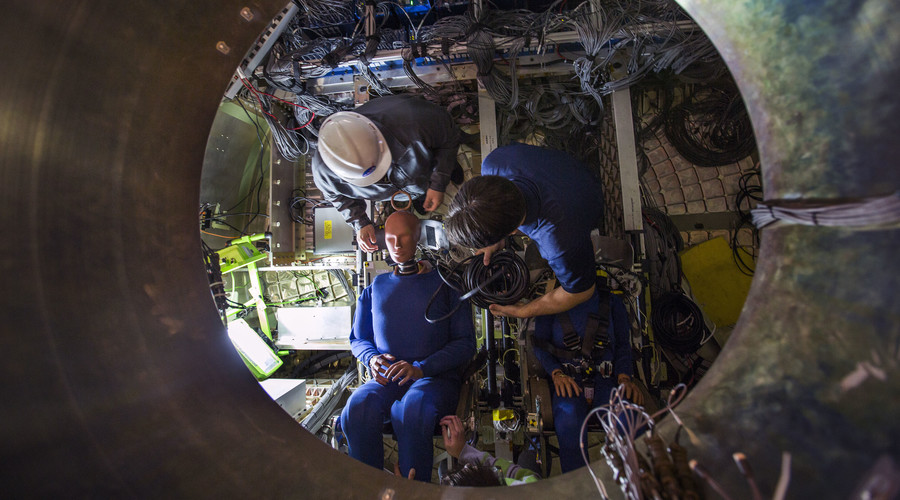 Langley Research Center's 20ft-deep Hydro Impact Basin is being used to mimic the conditions of Orion's planned 'splashdown' landings in the Pacific Ocean, off the California coast.
Two dummies will be used as part of this safety assessment in the Orion replica - one representing a man of 220lb (100kg) and one of a 105lb (48kg) woman.
Project manager Ellen Carpenter said: "We are excited about this testing because we'll have suited-up test dummies inside the capsule.
"Including test dummies will help NASA ensure the crew is protected from injury during splashdown in future missions."
The real Orion remains under construction though some test flights have taken place. It will eventually be launched on the "world's most powerful rocket", the Space Launch System (SLS), and transport a crew of up to four people.
NASA describes the capsule's development as a "critical step" in the agency's plans to send humans to the Red Planet.
Johnson Space Flight Center engineer Rick Ybarra revealed: "These test dummies are the same type of test dummies that are used in the automotive industry for front collisions."
It's fair to say NASA need to get their testing spot on because Orion's next mission, Exploration Mission-1, will see the unmanned spacecraft hurtle back towards earth's atmosphere at a leisurely 25,000mph (40,000kph).
READ MORE: Leap back in time: NASA spots farthest galaxy, breaks cosmic distance record