Eerie or exciting? Disaster response droid opens doors, crawls & moves obstacles (VIDEO)
Published time: 4 Mar, 2016 17:27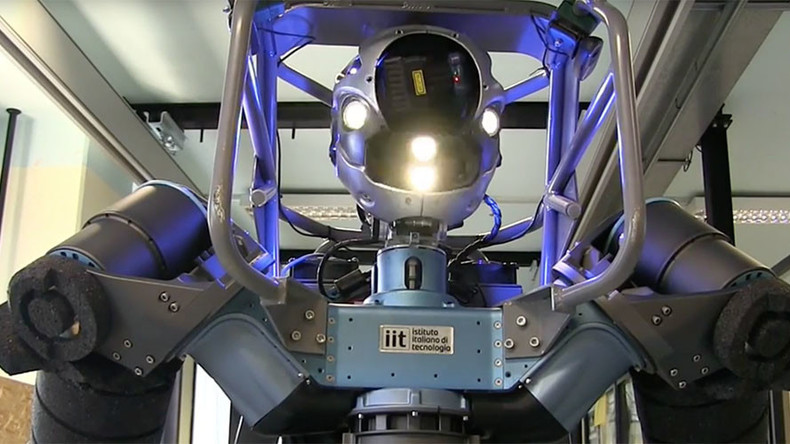 Science fiction has taught us to fear robots, but instead of exterminating the human race in a Terminator-like showdown, this cyborg might just save your life.
A 6ft-tall (183cm) humanoid dubbed the 'Walk-man' and built by a team of Italian scientists could replace emergency service personnel on the frontline.
The project means that in the future, armies of droids might be the first responders to disaster scenes such as nuclear power plant meltdowns, tsunami clean-ups, and collapsed buildings.
Powered by a 2KWh battery and equipped with color cameras, the EU-funded design has the ability to operate autonomously, using planning algorithms, or can be controlled from a safe distance.
According to its creators - based at the Italian Institute of Technology - the Walk-man can function in tight spaces, with incredible manipulation skills enabling it to bend, walk or crawl.
Footage of the emergency droid being trialled provides an insight into its walking capabilities, while its large fingers and powerful limbs allow it to move heavy obstacles.
READ MORE: Astro droid? Russians build human-like super-robot for remote-controlled spacewalks
Sensors at the pelvis and head give the robot height perception, while cameras fixed at strategic points on the body provide human operators with an unhindered view of the surrounding environment.
"This is actually an anthropomorphic robot that was developed to assist humans during situations where actually we have physical disaster: disasters made by humans or the environments that becomes hostile and dangerous for emergency responders to intervene," explains IIT senior researcher Nikolaus Tspgarakis.