Pentagon confirms X-51A test flight was a failure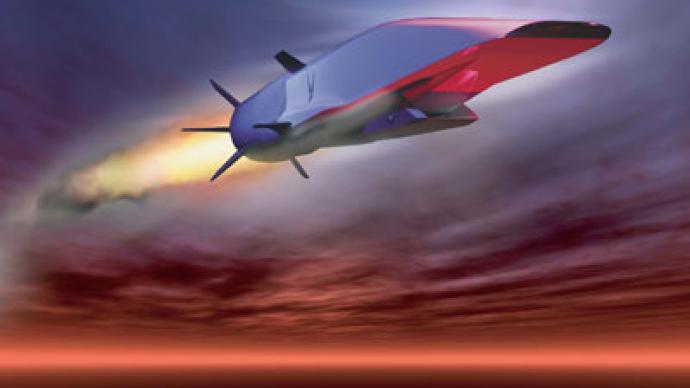 The US Air Force confirmed on Wednesday that the test mission one day earlier of an unmanned hypersonic plane hoped to travel at six times the speed of sound was a failure.
The Pentagon revealed on Wednesday that Tuesday's test run of the X-51A WaveRider aircraft was unsuccessful."It is unfortunate that a problem with this subsystem caused a termination before we could light the scramjet engine," Charlie Brink of the Air Force Research Laboratory at the Wright-Patterson Air Force Base in Ohio, says in a statement.The WaveRider was only scheduled to soar for around five minutes, and the military did not release any official comment on the status of the exercise until a full day later, only then finally acknowledging the failure. Earlier in the day, Wired's Danger Room reported that the WaveRider "failed its flight test" and suggested that "a fin problem caused a loss of control [before] the engine could kick in," but did not cite where that information came from. According to a report also filed on Wednesday by AviationWeek.com, sources speaking with that outlet suggested that the test mission "was not a success."
AviationWeek reports that they believe that a malfunction with the craft's Pratt & Whitney Rocketdyne SJX61 dual-mode ramjet/scramjet engine was not to blame. After being brought to an altitude of 50,000 feet with the assistance of a B-52 bomber, the scramjet engine is the fundamental component involved in boosting the craft to a speed that could coast it over the Atlantic Ocean in under an hour. The Pentagon had hoped that the X-51A would be able to sustain around five minutes in the sky at a speed of Mach 6, or roughly 4,300 miles per hour. No craft of its type has come close to achieving that goal in the past, though. A WaveRider tested in June 2011 was only able to sustain a speed of Mach 5, and for only half of the time.Once the WaveRider or a similar hypersonic craft has successfully completed testing, it could be used by the Air Force to send servicemen, supplies or even missiles to any part of the planet within moments.
You can share this story on social media: