WikiLeaks hacked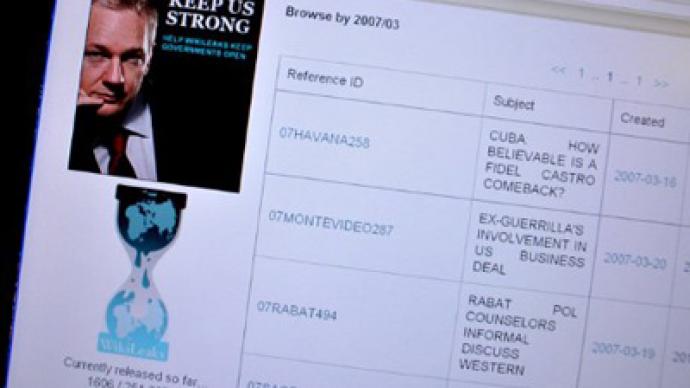 A cyber attack waged on WikiLeaks late Tuesday brought the whistleblower website down, presumably as an act of retaliation for the release of tens of thousands of US diplomatic cables leaked recently.
A slew of denial of service attacks launched on Julian Assange's WikiLeaks caused the site to go down yesterday. The organization announced on Twitter that they were "presently under attack," only for the site to become unavailable on the Internet an hour later. Once the site became inaccessible, WikiLeaks reps tweeted that their audience should seek out mirror pages also hosting their content for the time being if they wish to access files normally hosted on the main site.
While no hackers have taken credit for the attack yet, the list of suspects is aplenty, especially given the worldwide scandal that has escalated in recent days. While WikiLeaks has regularly posted US diplomatic cables to the Web since last year, the last week has seen the biggest dump of documents yet, including around 134,000 diplomatic cables.

Outlets out of Germany reported this week that they had also obtained the password needed to decrypt the whole collection of uncensored cables, which exposes the names of intelligence officials and informants that have spoken directly with US agents.

"I note that on occasions in the past, WikiLeaks has decided to redact identifying features where security operations or safety could be put at risk. This has not occurred in this case," Robert McClelland, Australia's attorney-general, responded in a statement. "The publication of any information that could compromise Australia's national security – or inhibit the ability of intelligence agencies to monitor potential threats – is incredibly irresponsible."
"For the first time, the diplomatic cables are available from every country that has US diplomatic representation," WikiLeaks wrote on Monday. "The decision to publish 133,877 cables was taken in accordance with WikiLeaks' commitment to maximizing impact, and making information available to all," read a statement from the site. "At the beginning of the month, the number of cables published had only reached the 20,000 mark – under 10 per cent of the total."

Less than 36 hours of releasing the onslaught of files, however, WikiLeaks was taken offline by the denial of service attacks. The recently-released cables document every file relating to US relations with Australia and Sweden, and also link nearly two dozen people from Down Under to a radical Yemeni cleric tied to al-Qaeda. In response to the cyber attacks, a rep for WikiLeaks tweeted on Tuesday, "Dear Governments, if you don't want your filth exposed, then stop acting like pigs. Simple."