White House breaks another promise
Published time: 21 Jun, 2011 16:58
Edited time: 21 Jun, 2011 22:08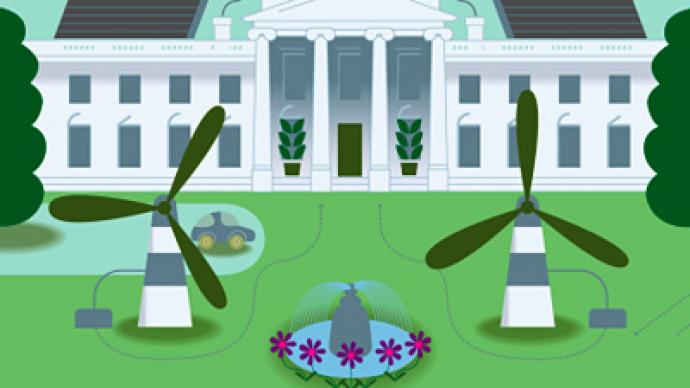 In the ongoing list of promises gone broken by the Obama administration, the White House added a new one this week that has environmentalists seeing red.
Despite promises to go greener by the start of summer, the solar panels sworn to be installed by the end of spring at the Pennsylvania Avenue palace remain missing as officials have been unable to meet the deadline they imposed themselves.
Speaking at the GreenGov Symposium in October, United States Secretary of Energy Steven Chu said, "I'm pleased to announce that by the end of this spring, there will be solar panels that convert sunlight to energy and a solar hot water heater on the roof of the White House."  With summer officially here, however, the eco-friendly installation has yet to occur.
The Department of Energy responded to criticism on their blog Monday night, attempting to explain their inability to keep their promise. In the post, the DoE says that they remain "on the path" towards a solar demonstration project, but says that they will not share any more details until "after the competitive procurement process is completed." The message was signed off by Ramamoorthy Ramesh, the director of the SunShot Initiative and Solar Energy Technologies Program at DoE.
350.org's Bill McKibben spoke to the Huffington Post about the ordeal, and as the voice behind the Put Solar On It campaign, today he is disappointed over the lack of progress made by the administration. His grassroots campaign to get panels on the White House roof garnered 125,000 signatures from people urging Obama to make the deadline.
"We took [Chu's 2010 speech] as a great victory and thanked the White House for doing the right thing for the right reasons," says McKibben. "It's not anywhere near as important as passing legislation or anything, but it's not completely insignificant. It didn't occur to us that they might not actually keep their promise."
"The date was nine months in the future, and nine months is a long time. It's long enough to have a baby, and it's long enough to put up a solar panel."
"It doesn't require SEAL Team Six to put up the solar panels," he adds.
President Carter had solar panels put up back in 1979. Five years later, however, President Reagan had the panels removed. McKibben released a statement this week where he says that one of those panels is now in a museum in China, "Where 250 million people are using solar hot water heaters right now."
"We need to get back in this game, and we need Barack Obama to keep his promises and lead us on that way."