Even after Obama's promise, lobbyists still run the White House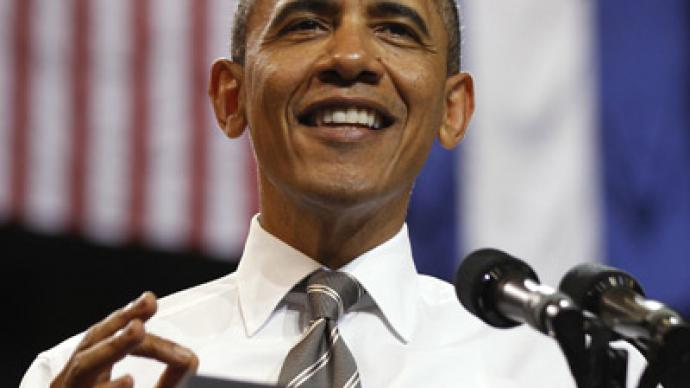 If you're looking for someone busier than US President Barack Obama, try finding his doorbell repairman. New records reveal that the White House has had millions of visitors since Obama entered office, and many were lobbyists.
Since the start of his term, President Obama has been adamant on eradicating ties between administration officials and Washington lobbyists. He vowed to keep himself from appointing former K Street execs to White House roles and even outlined it as part of his campaign agenda back in 2008. Now to settle a lawsuit, the Obama administration has released the White House's visitor logs dating back to just after the current commander-in-chief took the oath of office, and although preliminary research reveals that there aren't a lot of notorious names littering the logs that would raise eyebrows, one thing is for certain: lobbyists are without a doubt welcome at 1600 Pennsylvania Avenue.Dating back to January 2009, the president's palatial Washington, DC mansion has seen more than just a few guests. In all, the logs suggest that 1.3 million distinct visitors have dropped by for more than 2 million individual visits. A fair share of those are chalked up to holiday parties, diplomatic receptions and bill signing ceremonies, but besides from tour groups, the president's most popular guests appear to be lobbyists working for companies that usually have cushy relationships with the White House.In a report published on Monday by the Washington Post, the paper notes that lobbyist Marshal Matz has made more than two dozen drop-bys since inauguration day, often accompanied by some pretty big names in the world of business. In particular, the Post notes that Matz has swung by the White House from time to time with the general counsel for the company that runs General Mills cereal and the owner of Beef Products, Inc. "I appreciate Marshall's ability to have access," Federal Forest Resource Coalition President Howard Hedstrom tells the Post, "…He opened the door, but basically the conversation was carried by those of us who know the issues."Testimonies from others suggest that being buddy-buddy with a lobbyist might be the only way to get in, though.Vivature Health CEO Andrew Menter tells the Post that he met with Obama towards the end of the president's first year in office after lobbyist Tom Downey arranged for a meeting between the two. He wasn't the only one helped out by the former New York congressman, but he was one of just a few that felt comfortable talking to the Post about his experience. Menter says that the meeting was made so that he could discuss the effects of Obama's new health-care law on his small-time business, to which he offers the Post a unique reflection:"The whole process was interesting for me. It's a little scary," he says. "You need a lobbyist to get a meeting."The White House is not holding back by publishing the logs, and offers little commentary as to why each visitor dropped by. If anything, though, it finally accounts for explaining just how strong the relationship between lobbying and legislation really could be.Among other frequent visitors include Tim Hannegan, who lists Taser International as a client. He's been to the White House more than 30 times since the start of the president's first term. Bill Samuel, lobbyist for the AFL-CIO, has been by more than 50 times.Elsewhere Michael Taylor, a lobbyist for the Monsanto corporation that formally served as an attorney for the US Department of Agriculture, is listed 25 times in the database. Chris Dodd, the former congressman that left his Senate position to help lobby in favor of the Stop Online Piracy Act on behalf of the Motion Picture Association of America at a $1.2 million annual salary, made more than a dozen trips too."The administration's stance on lobbying may be a great applause line for people outside the Beltway but there are people here in D.C. who are lobbying on behalf of a multitude of worthy causes," Laura Murphy, a lobbyist for the American Civil Liberties Union, tells the Post.In the end, a visitor's pass into the White House doesn't always guarantee that you'll win Obama's endorsement. It does, however, help get you that much closer to Washington royalty — even after insisting that the revolving door between the White House and corporate lobbying would be closed on his watch, 17 former lobbyists were appointed to the Obama Administration – during his first two weeks in office alone.