'I'm not a scientist': W. Virginia governor addresses water safety after chemical spill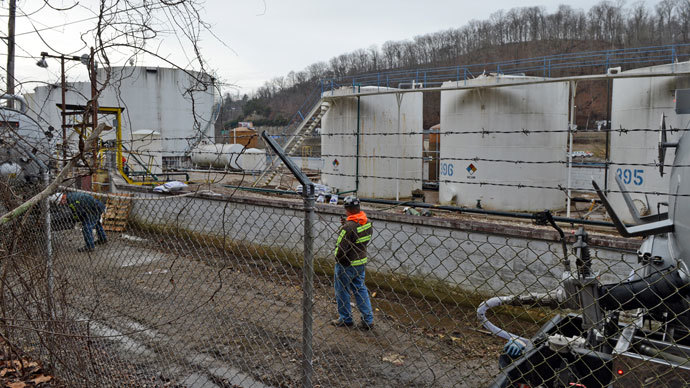 ​A West Virginia community hoping to determine whether its drinking water is safe after a catastrophic chemical spill will likely be left with serious doubts after the state governor said he could not confidently answer that question.
"We've been in this thing for 11 days. It's a very complicated issue. I'm not a scientist, you know," said Governor Earl Ray Tomblin.
"I have to rely on the best information that I have," he added. "My major concern for the last 11 days has been the health and safety of our residents."
Tomblin was speaking at a press conference on Monday, just two days after a "do not use" ban was lifted, meaning that West Virginians could use their tap and bath water for the first time since Crude MCHM leaked from a Freedom Industries plant. Residents were instructed not to consume any water, even if it was filtered or boiled.
Yet the "do not use" mandate was lifted in other areas of West Virginia before Saturday and residents complained that their much-needed water came out of the faucets in a deep yellow tone. Approximately 300,000 people were affected in all, although Gov. Tomblin said that the decision to begin consuming the water again was ultimately a personal one.
"It's your decision," he said. "If you do not feel comfortable drinking or cooking with this water then use bottled water. I'm not going to say absolutely, 100 percent that everything is safe. But what I can say is if you do not feel comfortable, don't use it."
The number of medical complaints surged when the spill began on January 9. West Virginians across nine counties complained about rashes, stomach aches, and other issues. Whether MCHM is carcinogenic is unknown.
The governor said more than once that the US Centers for Disease Control and Prevention has said the water is safe as long as it contains less than one part per million of the coal-cleaning chemical. However, outside experts warned that pregnant women and children in particular should continue drinking bottled water until more is known about the current situation.
Eastman Chemical, a company that produces MCHM, admitted that "this was not one of the worst compounds out there – but not one of the most benign ones either."
Governor Tomblin said the state is doing everything it can to process all the information, although much remains unknown.
You can share this story on social media: