Hospital admissions over W. Virginia chem spill double even after water declared safe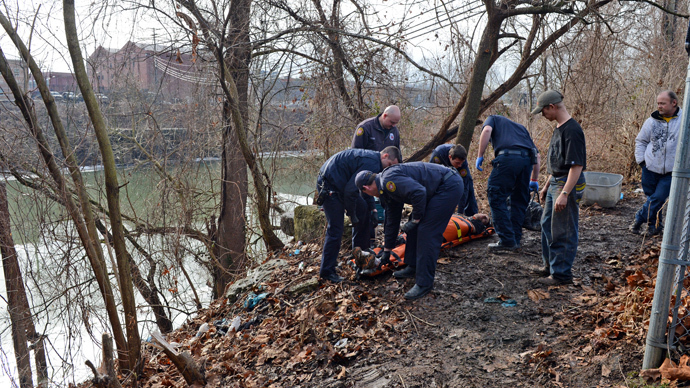 Despite recent declarations that the water in West Virginia is now safe to use, hospital admissions related to the Kanawha Valley chemical spill have doubled over the last week.
About a week and a half ago, a chemical mixture used to wash coal – called "Crude MCHM" – began leaking into the Elk River, contaminating the water supply used by nine counties and roughly 300,000 people.
According to a recent story by the Charleston Gazette, 411 patients have been treated for chemical-related maladies at 10 different hospitals between January 9 and January 18. That's a significant rise when compared to the numbers from just two days prior, when 317 individuals were treated for chemical exposure.
"Do not use" orders began being lifted on January 13, with all counties cleared to resume drinking and using the water by the 18th. As Think Progress noted, about 169 patients were treated and released from local hospitals as of January 12.
Even as calls to West Virginia's Poison Control Center rise – more than 2,300 were made as of Saturday – a press release by Gov. Earl Ray Tomblin's office pointed to numerous factors that could be causing the spike in hospital admissions, in addition to the inability of residents to wash their hands properly.
"We're in the middle of flu and virus season," Dr. Letitia Tierney of the state Bureau of Public Health said in the statement. "While the [hand] sanitizer is good for cleaning, it isn't great for eliminating a virus. Some people are getting these viruses, as many people do every winter. In addition, a lot of people are getting very anxious. Anxiety is a real diagnosis and it can be really hard on people and it's OK to be seen by a health professional to ensure you're OK."
Complicating the situation is that some areas already had their "do not use" bans lifted before new tests revealed chemical levels above the one-part-per-million standard mandated by the Centers for Disease Control and Prevention.
To make matters worse, the standards set by the CDC are not based off Crude MCHM, but rather a pure form of MCHM. Since the Crude MCHM mixture is actually composed of a combination of seven total ingredients, it's possible that the safety tests don't adequately account for the potential danger of the other chemicals.
"If crude MCHM is truly what leaked, it's possible that we don't even know which of this 'cocktail' is most harmful. We could have set a threshold based on the wrong one. We may be testing the wrong one," Evan Hansen, president of Morgantown-based Downstream Strategies, told Think Progress.
All this confusion has caused some residents to simply swear off tap water until contamination readings sink all the way down to zero.
"Nobody that I know is ingesting the stuff," local resident Richard Katz told the Gazette. "Some people are taking showers. Many are not. As for me, personally, I'm not touching this stuff."
The cause of the chemical leak is still unclear, though we recently reported on the possibility that some kind of object may have aggravated the problem by piercing the tank in question, which was already leaking.
Freedom Industries, the company responsible for maintaining the storage tanks, has filed for Chapter 11 bankruptcy. At least 20 lawsuits have already been filed against the company for its role in the spill.
You can share this story on social media: