Wells Fargo facing lawsuit after firing father of dying cancer patient over healthcare costs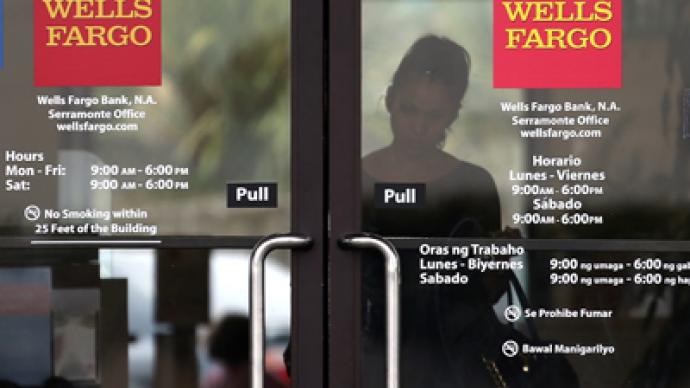 Wells Fargo is facing a lawsuit for firing an employee whose daughter needed expensive cancer treatment. Three days before his daughter was scheduled to go into surgery, the distressed father was left without health care or life insurance.
The hospital immediately canceled the August 2010 surgery after the man lost his job. Seven months later, the young girl died of cancer."This was a loss of an innocent child's life," the former employee's lawyer told the Huffington Post. "There were [some] Wells Fargo employees who not only lacked compassion but seemed to have been motivated by entirely improper concerns about finances."Wells Fargo allegedly fired mortgage consultant Yovany Gonzalez because his daughter's medical costs were too high. Before he was let go, the bank and its health insurer, United Health Care, questioned the man's wife about daughter Mackenzie's cancer treatment.The health insurer repeatedly asked about the costs of the treatment. At the same time, the employee's supervisor told Gonzalez that Wells Fargo was trying to find a reason to fire him.Soon thereafter, Wells Fargo dismissed Gonzalez, claiming he falsified his time records – even though his supervisor had input the time records and approved them.The man lost not only his health insurance plan, but also his family's life insurance coverage. When the young Mackenzie passed away, her family received no life insurance compensation.The lawsuit states that Wells Fargo had initially promised to give Gonzales information about how to continue his family's life insurance coverage, but the bank never followed through with it.Additionally, under the Continuation of Health Coverage (COBRA) law, employer health insurance can be extended as long as the full premium is paid. But Wells Fargo failed to send Gonzalez information about how to extent his health insurance until 90 days had passed.Gonzalez was forced to accept money from a charity to pay for the expensive premium that would give him a year of health insurance coverage.Now, Gonzalez has lost his daughter and works for Chase Bank for less pay than at his previous job, due to reasons Wells Fargo gave for firing him.Without health insurance, medical treatment in the US can be expensive. A recent study found that in 2010, more than 26,000 Americans died prematurely because they could not afford health care without insurance.Although the COBRA law allows recently fired employees to extend their health insurance, only those who can afford the expensive premium payment have that option.And while Gonzalez succeeded to reacquire health insurance, he will not be able to bring back his daughter.