'Too many flaws': Executions in Washington suspended indefinitely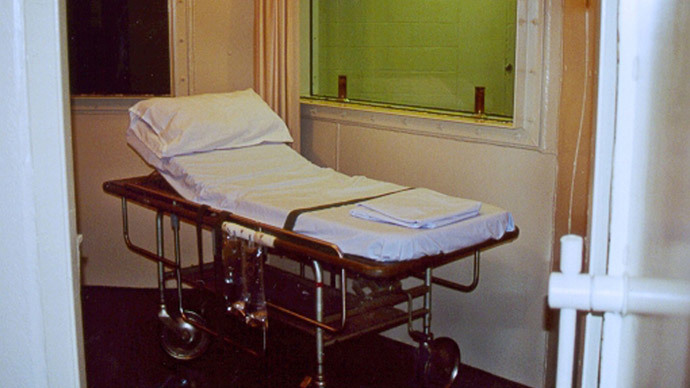 Washington state governor Jay Inslee has announced that all death penalty executions in the northwestern state will be suspended, a move Inslee hopes will fuel the debate about capital punishment's place in US society.
Inslee, a Democrat elected as governor in 2012, said at a news conference Tuesday that he had spent months speaking with prosecutors, law enforcement officials, and family members of the people victimized by those on death row. The ultimate result, he said, is that the death penalty is imposed in unequal and inconsistent situations.
"There have been too many doubts raised about capital punishment, there are too many flaws in this system today," he said, as quoted by the Seattle Post-Intelligencer. "There is too much at stake to accept an imperfect system…Equal justice under the law is the state's primary responsibility. I'm not convinced equal justice is being served."
Inslee said that for as long as he is in office, if a death penalty case comes to his desk he will issue a reprieve, which neither pardons an inmate nor commutes their sentence into a lesser punishment.
"During my term, we will not be executing people. Nobody is getting out of prison, period," he said.
"I want to acknowledge that there are many good protections built into Washington State's death penalty law, but there have been too many doubts raised about capital punishment. There are too many flaws in the system. And when the ultimate decision is death there is too much at stake to accept an imperfect system."
The announcement comes as nine men sentenced to death await their fate in Washington State Penitentiary in Walla Walla. If the governor's moratorium is ever lifted Jonathan Lee Gentry, convicted of killing a 12-year-old girl in 1988, may be the first to be executed.
His petition for release was rejected last month by the state Supreme Court, making it possible he will be the 33rd person to be executed in the state since 1982. The last execution came in 2010, when prisoner Cal Coburn Brown died by lethal injection for the 1991 murder of a Seattle woman.
Inslee reminded the public that he did not have any doubt that those men slated to die were guilty.
"With my action today I expect Washington State will join a growing national conversation about capital punishment," he said. "I welcome that and I'm confident that our citizens will engage in this very important debate."
You can share this story on social media: