DC cop suspected of running prostitution ring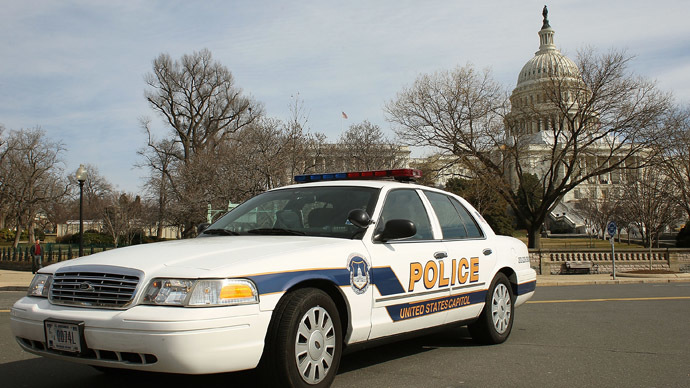 A police officer in Washington, D.C. is currently under investigation for possibly running a prostitution ring out of this apartment, where a 16-year-old missing girl was found on Tuesday evening
The unnamed officer has yet to be to charged with a crime, though the Metropolitan Police Department has placed him on paid leave while it wraps up the investigation.
According to the Washington Times, the teenage girl told investigators that she met the officer in question two weeks ago. The officer allegedly took nude photos of her in glossy shoes and arranged a meeting with another man who would pay her $80 for sex. The officer would reportedly get a $20 cut of the bill, though it's not clear if the meeting ever occurred.
Additionally, the teenage girl told authorities that six other women were working for the officer, and advertisements for the operation were posted on a website called backpage.com.
As the Washington Post reported, court documents state law enforcement authorities ended up at the officer's apartment as part of a routine investigation into the whereabouts of the 16-year-old girl. When they arrived at the scene, the officer let them in and informed them two women were in his room, the missing teen and an 18-year-old girl.
When a search warrant was issued, the detectives discovered and seized marijuana, nine pairs of high-heeled shoes, a bra, computers and cell phones, and a mirror with the names of alleged prostitutes etched onto it.
The announcement of the investigation comes just a few days after another D.C. officer, Marc Washington, was arrested and charged with producing child pornography while on duty. Investigators do not believe the two cases to be related.
On Thursday, D.C. Police Chief Kathy Lanier said she is "very concerned" over the allegations, but said the recent conduct of some of the department's officers does not indicate widespread misconduct.
"The misguided actions of a few in no way reflect on the professionalism, dedication, and integrity of the department," Lanier said in a statement. "As we have seen several times this year with three officers shot in the line of duty, MPD officers put their lives on the line every single day to protect residents and visitors in the District of Columbia. That will not change."
You can share this story on social media: