America's workers revolution gets personal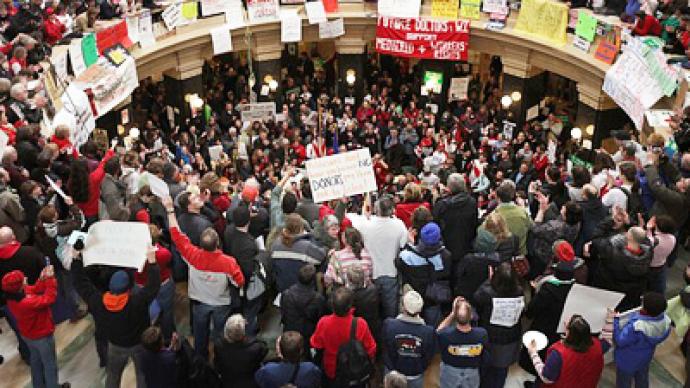 As tens of thousands of people continue to protest in Wisconsin and hundreds spend day and night in the Capitol Building, many overlook the personal stories behind why people choose to rise up.
The battle of Wisconsin rages on with union-busting politicians versus workers standing up for their rights. While Scott Walker means business when he says he will eventually push his bill through, a family space set up inside the Capitol building has become a symbol of this battle having long become personal. Families – mothers and children – have been here for days – eating, sleeping and fighting for democracy.Stories of how close to the heart being here number in the thousands. Firefighter Dennis Edwards drove five hours to get his son here to witness history in the making – the middle class saying "enough". "If you looked back at your life and name the top ten people that shaped your life, six or seven of them were my teachers. My sister has been a teacher for twenty-four years and to say that she is overpaid is ridiculous," sighed Edwards.A group of students has been camping inside the Capitol building for the entire ten days of protests. They feel duped by the Governor they believed in. "No one ever thought that if we vote for this guy, he is ever going to take away these basic rights," explained one of them – Dan Wise.Emily and her daughters Lauren and Willa have been in the heart of the protests for days. "Any effort that I can give in the service of the people rising up at all, that's where I want to be," said the mother of the two. Another protester, Miles Kristen, said he actually gave up his education and dropped out of college to be in Wisconsin and fight for the education system of America."I came here a week ago and yesterday I decided that it's way more important to defeat Scott Walker – because if we don't – what kind of school system are we going to have?" Miles asked. The governor who launched the battle against unions in Wisconsin and sparked an uprising in other states believes the people will eventually tire.But everyone here begs to differ. "This is our state. These are our teachers. Our nurses, our transit workers. We are not going to get tired, because this is our place and we are not going away," said Simon, another protester.The thousands that are here are not just numbers, but real people and they are committed to fight till the end.
You can share this story on social media: