US forces annihilate Afghan village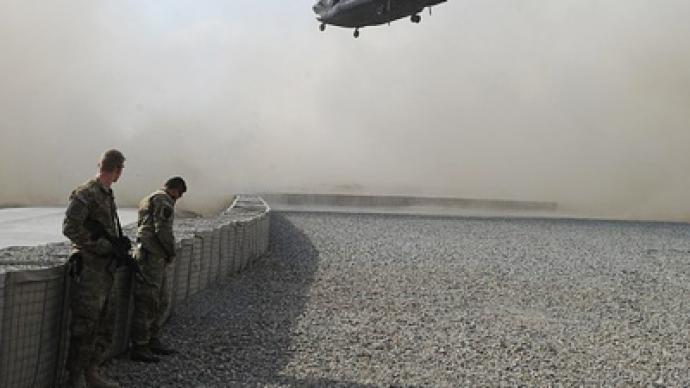 A few months ago an Afghan village was filled with people and life, but now it is nothing more than rubble after being bombed heavily by US forces.
A spokesperson for Gen. David Petraeus, commander of the war in Afghanistan, explained no one was killed; the village was not full of villagers, but Taliban explosives. The Taliban allegedly kicked the village people out and used the area to store supplies and weapons. Kathy Kelly, the co-coordinator of Voices for Creative Nonviolence said whether or not the villagers were present, this was not a wise move for the US military to take. "I think it's good to employ the golden rule. Would we want that to happen to our neighborhoods?" asked Kelly. "The fragile reversible progress has resulted in enormous sums of money and other kinds of recourses, ingenuity and skill, and what could be directed toward meeting human needs being the cause of rising death tolls." Many have defended the tactic, arguing no one was killed and the objective of eliminating Taliban weapons was accomplished. However, many ask if it did result in civilian Afghan deaths, would it have been worth it. Kelly explained Afghans die daily, not due to bombs but due to a lack of healthcare and infrastructure, problems exasperated by the war and that the US could help to solve. However, the US continues to focus its resources on conflict not humanitarianism. "I think the United States military is being directed by people who say the United States has a vested interest in controlling an area of the world where there are resources that are very vital to, for instance, China and other neighboring states, Iran and Russia," she commented. "The United States clearly wants to have military bases and roadways in that area and I don't think humanitarian concerns are high on the list." The US said it will allow the villagers to return to the demolished village and rebuild. The US has granted them permission to return to replant the pomegranate orchards and farms. However, Kelly explained many Afghans who left fear returning to the village and other villages in the area. They fear a return of the Taliban or further conflict generally. In addition, their livelihood has been completely eliminated. Their homes are gone, their livestock killed, and farmland ruined."These are not places in the rural areas that show any sign of rebuilding, but rather tremendous neglect," she said. In order for the US to win 'hearts and minds' they must utilize policies that do not deter the people or cause them to fear the US as an outside invader.
You can share this story on social media: