"Fighting the US Police State with Music"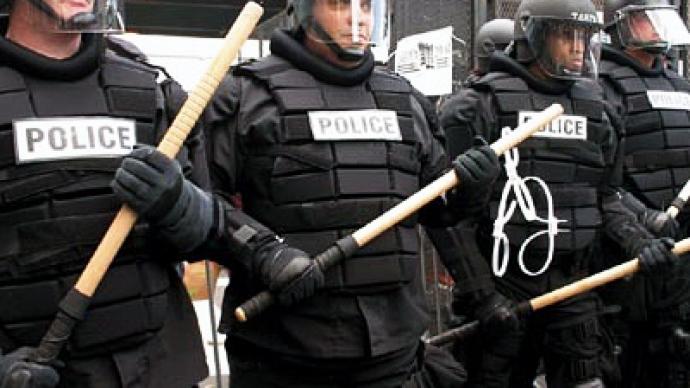 American rocker Scott Huminski from the group Scott X and the Constitution Commandos take on 'corrupt and criminal acts' of the US government with their fourth music video release; "Police State USA".
These American musicians are fed up with government crimes and oppression and have released a seven song rock music album to express their views. Huminski claimed to be a victim of government oppression, including being banished from all US courthouses, targeted with wrongful criminal prosecutions, free speech violations, double jeopardy violations and other acts.Failed by the legal system, Huminski decided to take his voice to the masses, uploading his music videos to YouTube. Huminski said his music is a tool to tell others what he sees and experiences from his own involvement with government oppression."I've been dealing with the police state tactics for about a decade or more. I went through the court system of years and years, but found that the courts are in collusion with the prosecutors and police in many cases," he said. "As a last resort I just said, well, I'm going another route and am going to take this to YouTube, the Internet." Huminski said he wanted his music to target the police state that had targeted him for so many years. "My music is a response to the government's conduct," he explained. "Basically you have nothing in the power of the government with all their guns, police, military, they can bankrupt you, ruin their family. It can just about destroy you even without sending you to prison. They can destroy you with various techniques." Through the Internet and YouTube, Huminski is able to speak to the world without censorship. The platform gives him a space for free speech to attack the actions of the government. Decades ago activism was rooted in free speech and music, bringing to light issues ranging from peace and freedom to the war on drugs, but today it is more about making money. "A lot of the people who are paying music are at the age bracket where they haven't seen some of the conduct and oppression that comes about from this police state that's now in existence; it's not in any of their songs. They're seeking about teenage love, cars, whatever," said Huminski.
You can share this story on social media: