Mubarak refuses to quit, passes power to Suleiman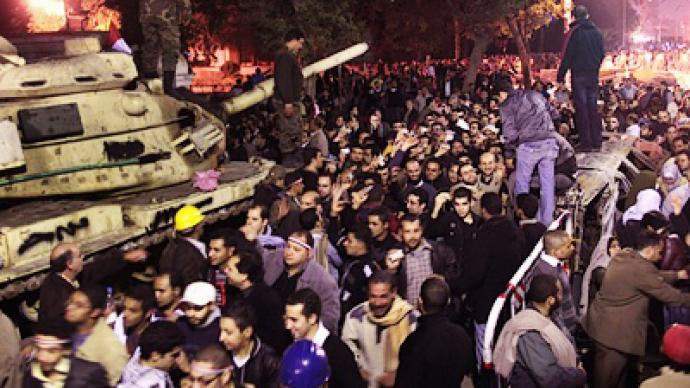 Protests in Egypt continue and have gained momentum as labor unions join the rebellion on the heels of an announcement from President Hosni Mubarak who continues to insist he will not step down.
It was expected Mubarak would announce his resignation as president, yielding power to the Egyptian military. However, in a speech he said the transition continues and he will remain in power until national elections take place in September, stating that is the constitutional approach.Mubarak has instead passed power to his Vice President. Egypt's Vice-President Omar Suleiman is the nation's former spy chief, a friend of the US, a reported torturer, and has long been touted as the next presidential successor. He is certainly not favored by the protestors. Suleiman, or as the protestors have referred to him, "Sheik al-Torture" has long been a long time US and CIA ally, having even worked with Israel.Investigative journalist Wayne Madsen explained this is far from what the protestors have called for. "Mubarak earlier today sent out signals he was going to meet the demands of protestors. This is not meeting their demands," he said. "He's just rearranging the deck chairs on the Titanic, is all he's doing for his regime." The world anticipated Mubarak's departure and is surprised he opted to remain in office – even the head of the CIA announced he believed Mubarak would step down. "We know the CIA is in there and basically controls his [Mubarak] vice president, Omar Suleiman, 'Sheik al-Torture," Madsen said. "If Leon Pennetta, the director of the CIA, has no clue as to what's going on in Egypt we're probably in a lot worse shape."Mixed messages from the United States are another problem, he explained. US President Barack Obama has called for change, Secretary of State Hillary Clinton has called for a transition, but little has been made clear. Obama who has repeatedly commented on building Middle East democracies has not called on Mubarak to leave. He has not acted on his words."I'm begging to think Mubarak isn't leaving because he doesn't know where the US administration stands on him and we've been his biggest bankroller over the last 32 years," Madsen remarked.He argued Egypt needs to be less influenced by foreign powers, just as Mubarak commented in the outset of his speech. There needs to be less influence and control form America.
Dr. Emile Nakhleh, a former senior intelligence officer who served as director of the Political Islam Strategic Analysis Program at the CIA said he is very concerns for an increase in violence in Egypt."Refusing to respond to the opposition and to the people's demands mostly likely will result in bloody violence," he explained. "Which in the long run will harm all of our interests in Egypt and elsewhere." The United States has made it clear change is needed, and must take place soon. It is what the Egyptian people want."Unless this genuine change occurs, demonstrations are not going to dissipate and it seems that the regime will not be able to quell these demonstrations as long as they remain peaceful. It seems to me, they were hoping the president would leave, now that President Mubarak has said he would not leave I am afraid they are going to extend their revolution beyond Tahrir Square to government buildings," Nakhleh said.
You can share this story on social media: