US freedom to Rock-n-Roll? Maybe not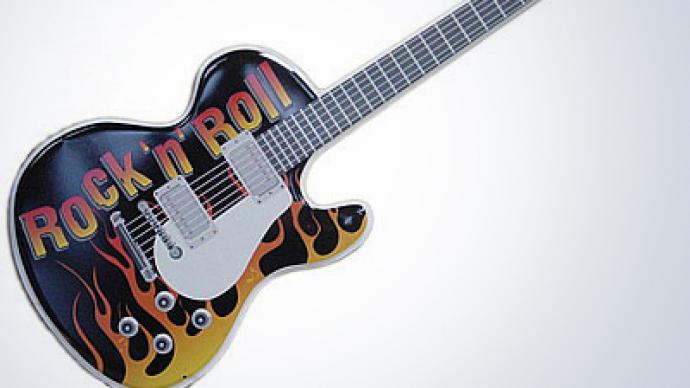 Fact is, if you join the all volunteer military in America, you volunteer to give up some of your basic freedoms. But, does that means the military can tell you what kind of music to listen to?
A number of US soldiers recently discovered the answer to that question. And it wasn't exactly music to their ears. Some like quiet tranquility, others like rock-n-roll. That's ok, that's how personal preferences work.Anthony Smith's playlist, a 35,000 song playlist, might literally knock your socks off. Smith is a human jukebox with a $3,000 sound system to back him up. "Yeah, it's a pretty good setup," he commented."It's a serious collection."In the 'quiet' state of Arizona, listening to his music is how he enjoys his nights. However, this was not always the case. While stationed at Fort Eustis, Virginia, US Army Private Anthony Smith of the Arizona National Guard learned the hard way his ability to pick his own music was a freedom he no longer had. "I did not like Virginia at all," he said. The rigors of basic training he could handle. The treatment he received from his drill sergeant was fine; the music on base however was nothing to be desired by his tastes. A concert by the Christian rock band "Barlow Girl" in May 2010 as part of the Commanding Generals Spiritual Fitness Concert Series was simply too much. "So when they say 'spiritual fitness' they specifically mean 'Christian'," explained Smith. "That's how I feel about it."He wasn't alone. Many of his fellow soldiers agreed. Smith estimated a little less than half of those stationed at the site actually cared to attend. There have been a number of 'Spiritual Fitness Concerts' at other military posts like Fort Eustis, including Fort Lee. The military, however, claims the concerts have no religious push. But, it's not merely a concert.In a review of Barlow Girl for the posts' newspaper, the group's father said "God has given us the tool to deliver his message and arm his army."The 'US Army Command Policy' chapter 6-2 loosely says the US Army will provide fair treatment for military personnel without regard to race, color gender, and religion.However, fair treatment is hardly what Smith and many of his fellow soldiers experienced.What did they receive when they attempted to opt-out of the optional concert? "We had to clean the barracks when we got back," said Smith. "Because we didn't go to this Christian rock show, we're now going to be punished."In a three page complaint to the higher-ups, another member of Smith's company claimed, "The incident seemed to offend even Christians of various denominations" and the concert's point seemed to be "To increase the chances of the soldiers being intrigued and curious about the featured artists and what they represent.""When this has happened to you in a military context, you feel as though you've gone through spiritual rape," said Weinstein. "If you're being slightly evangelized by your military superior, in the military 'get the f--- out of our face' or 'out of my face, sir or ma'am' is not an option for you."When asked, the official response regarding the concert by a US Army spokesperson was "I have no comment.""The big deal is just that it's the pressure in that area.I just don't tolerate any kind of religious pressure," explained Smith.In the US military, as it is everywhere else in the United States, maybe one should have the freedom to listen to a little rock, maybe even a little country, or perhaps even nothing at all. "Right.Exactly, I should definitely reserve that right," commented Smith.Religious scholar and US military veteran Jake Diliberto explained there is a strong Christian influence in the US military that goes back to the early founding of the military."When the colonialists started the military at the turn of the 18th century right when this nation was founded, they were religious communities," he said. "All of these different colonial armies had a religious church. They had chaplains that mandated religious behavior by the army. And much of that same religious rules were set continue today in the Uniform Code of Military Justice; for instance, if you get divorced you can get kicked out of the military." Early Christian traditions had large influences over the US military. Many officers in the service require mandatory prayer and religious day that they think are positive, what they do not realize is the outside perspective, Diliberto said. There are multiple religious groups in military. In Diliberto's experience, most kept their religion to themselves. But, this is not universal. The religious right in America has very strong influence in the military and US national security system. Some even work hard to send bibles to soldiers so they may work to Christianize the Islamic world.
You can share this story on social media: