Scrooge Saturday: 1.3 million Americans to lose emergency jobless aid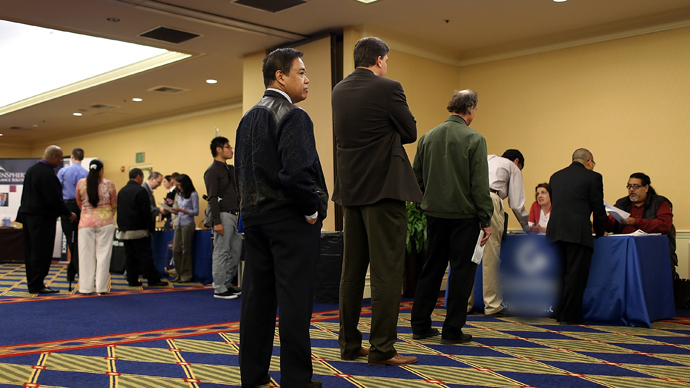 Congress went on holiday recess without extending an emergency federal aid program to America's unemployed, set to expire on Saturday, leaving over one million people in economic dire straits.
The federal aid program, which extended $300 per week to the long-term unemployed, helped some 1.3 million Americans and their families make ends meet in the aftermath of the Great Recession of 2008, described as the harshest economic downturn since the Great Depression.

President Obama on Thursday signed a bipartisan budget deal without guarantees on the unemployment assistance program, thus putting himself in a weak bargaining position as he scrambles to gain bipartisan support for extending jobless benefits.

"This morning, the president placed separate telephone calls to Senator Jack Reed and Senator Dean Heller to offer his support for their proposal to extend emergency unemployment benefits for three months," White House Principal Deputy Press Secretary Josh Earnest said in a statement.

"The president said his administration would, as it has for several weeks now, push Congress to act promptly and in bipartisan fashion to address this urgent economic priority."

Despite the importance of the program for the 1.3 million Americans who relied upon the cash payments, the Senate will not hold a vote on the proposal until Congress returns to work next month.

The abrupt termination of unemployment cash allowances - most of which contributed to economic growth at the local level - at the height of the holiday season is expected to have a negative impact on the economy.

Another 1.9 million Americans are expected to lose their state benefits before the end of June.

Across the United States, which is still struggling to shake off the economic doldrums, the situation for unemployed Americans varies from state-to-state.

In California, for example, the most populous US state, around 214,000 residents on Saturday will lose their cash payments, according to the US Labor Department. In 2013, Californians received $4.5 billion in federal jobless benefits, much of it spent at 'local-global' corporations, like Walmart and McDonald's.

Other states which expected to take a hit this Saturday include New York, where an estimated 127,000 will lose their benefits. In New Jersey, 11th among states in population, 90,000 people will not be receiving emergency aid over the holiday weekend.

Massachusetts residents, meanwhile, are expected to feel the termination of the aid program the worst, due to the state's higher-than-average percentage of people who have remained unemployed for six months or longer.

The Massachusetts unemployment rate has been on the rise, going from 6.7 percent last year to 7.1 percent in November. The national unemployment rate dropped from 7.8 percent in November 2012 to 7 percent last month.

The Boston anti-poverty group, Action for Boston Community Development Inc., says 141,000 Massachusetts residents are among 1.3 million Americans losing benefits.

While critics of the emergency unemployment program, like Sen. Rand Paul of Kentucky, say that handing out money to the unemployed only exacerbates the problem, causing people to become dependent upon the state for their livelihood, there has been little debate over the $16 trillion bail out of the world's leading banks, corporations, and governments between December 2007 and June 2010.

The bailout, courtesy of the Federal Reserve, was argued to be a necessary move in preventing the "too big to fail" economic institutions from... well, failing. Sadly, the same type of logic does not seem to apply to the American people, the very individuals who have suffered the most in the latest downturn.

At the same time, many of the biggest US corporations no longer even pay taxes on their profits.

Citizens for Tax Justice reported in June that many Fortune 500 corporations, including Nike, Dell, Apple, Microsoft and American Express, according to their financial statements, seem to pay "little or no tax on their offshore holdings."

"It's likely that hundreds of other Fortune 500 companies are also engaging in similar strategies to take advantage of the rule allowing US companies to "defer" paying US taxes on their offshore income," the watchdog group wrote.

This development places a serious strain on federal and state programs, some of which, like the emergency assistance program for the unemployed that will end on Saturday, can no longer foot the bill for their expenses.

The emergency aid program was started under President George W. Bush as a federal mechanism to assist the millions of Americans after their state-subsidized aid came to an end, which in most states happens after six months.
You can share this story on social media: