Down & out: US unemployed without extended benefits nearing 2mn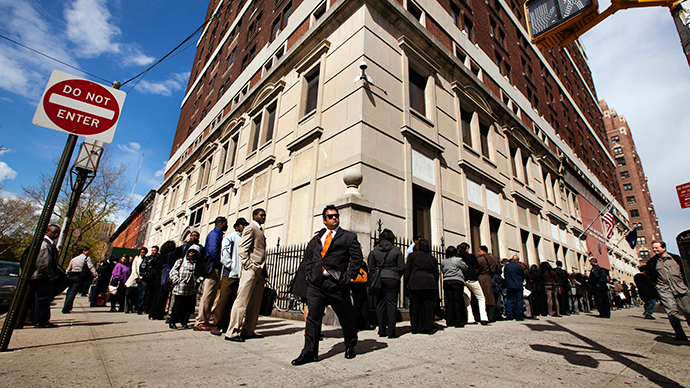 ​Two full months have passed since almost 1.3 million long-term unemployed Americans lost their extended government benefits, a number that has since jumped by 576,000.
Of the 4 million US citizens who have been searching for work for more than 26 weeks, more than half are no longer receiving extended unemployment coverage. Meanwhile, millions of other Americans who dropped out of the workforce since the start of the Great Recession in 2008 are no longer even counted in the data.

The number of unemployed Americans is said to be 10.2 million, according to the Bureau of Labor Statistics. Of this total, more than 3.6 million are listed as long-term, with another 2.6 million who receive no benefits but are searching for work. Of those who are employed, 7.3 million are working at part-time jobs, unable to nail down full-time employment.

The January unemployment report from the Bureau of Labor Statistics showed just 113,000 new non-farm jobs were created, not close to the estimated 499,000 individuals who entered the workforce. With January's unemployment rate at 6.6 percent, it was the second disappointing employment report in a row.

The Federal Reserve Open Markets Committee last week expressed concern over the dismal outlook, yet maintained it would hold to hold steady to stringent monetary policy.

"The maximum level of employment is largely determined by non-monetary factors that affect the structure and dynamics of the labor market," the minutes from the January 28 meeting read. "These factors may change over time and may not be directly measurable. Consequently, it would not be appropriate to specify a fixed goal for employment; rather, the committee's policy decisions must be informed by assessments of the maximum level of employment, recognizing that such assessments are necessarily uncertain and subject to revision."

The jobs data indicated first-time unemployment filings are coming in at 336,000 a week, which, although considered high, is down 3,000 from the previous week and almost on par with the four-week average.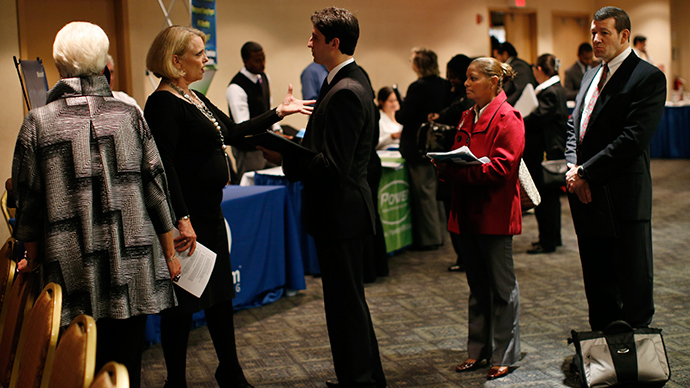 The lackluster employment picture puts pressure on the Obama administration for not doing enough to stimulate job growth, as well as on the Republicans who voted against prolonging much-needed unemployment benefits.

Democrats on the House Ways and Means Committee issued a report suggesting the termination of benefits cost the US economy $3 billion in January and February.

"The loss of long-term unemployment benefits is weighing down our economy at a critical point in the economic recovery, threatening to inflict long-term damage," said Sander Levin, D-Mich., the leading Democrat on the House Ways and Means Committee.

"Long-term unemployment remains an enormous challenge for millions of Americans and our overall economy, which is exactly why Republicans should join with Democrats to renew this important program."

Michael Strain of the American Enterprise Institute urged Congress to push through the extended benefits.

"A falling unemployment rate is good if the unemployed are transitioning into employment," Strain told PBS last month. A falling unemployment rate is not good if the unemployed are losing hope and giving up their job search entirely.

"Getting more people — especially the long-term unemployed — into jobs should be the major focus of federal economic policy in 2014."

Meanwhile, a Gallup poll conducted at the beginning of February reported 25 percent of Americans believe unemployment is the country's leading issue, with the economy a close second at 20 percent.

The poll of 1,023 adults has an error rate of 4 percentage points.

US legislators will attempt to resolve the issue Wednesday after a weeklong recess.
You can share this story on social media: